We're urging the UN to investigate U.S. interference in ICC operations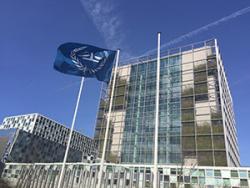 On Thursday, we filed a complaint with the UN Special Rapporteur on the Independence of Judges and Lawyers over U.S. interference into the International Criminal Court's operations and requested that they conduct a comprehensive independent investigation into the impact of U.S. threats and actions against the Court. Our complaint cites threats against the court made by Donald Trump and other U.S. officials ahead of the decision by the ICC Pre-Trial Chamber to deny the prosecutor's request to open an investigation into war crimes in Afghanistan and other countries by U.S. military and C.I.A. officials, the Taliban, and Afghan forces.
 "The ICC decision not to open an investigation into crimes in Afghanistan and those involving U.S. citizens in the face of U.S. bullying sent the dangerous message that politics trumps justice," said Center for Constitutional Rights Senior Staff Attorney Katherine Gallagher.
 Previously, we filed victims' representations on behalf of two men indefinitely detained at Guantánamo, detailing the torture they endured in CIA black sites, Department of Defense facilities, and proxy detention.
 Read more about the complaint we filed in our press release.
Louisiana demonstrators march from New Orleans to Baton Rouge to protest petrochemical industry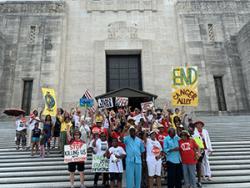 In Louisiana, the Center for Constitutional Rights joined the Coalition Against Death Alley(CADA) to march from New Orleans to Baton Rouge, demonstrating against the hundreds of petrochemical plants that continue to poison Black communities along Louisiana's Mississippi River parishes, an area known as "Death Alley."
 The march culminated in a sit-in at the state capitol, where the coalition presented their list of demands and requested a fixed date to meet with Governor John Bel Edwards. The Governor agreed to schedule a meeting with the marchers at a later date.
 "We are saying that the governor needs to step up and fall in line with the EPA standards," said Reverend Gregory Manning, one of the organizers of the march. "Make these petrochemical industries either fall down to the legal limits and no longer be in violation, or shut down."
Remembering 30 years since the Tiananmen Square massacre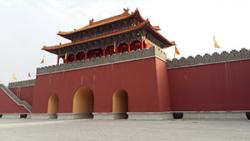 June 4 marked 30 years since the Tiananmen Square massacre, the day when hundreds (by some estimations, thousands) of Chinese civilians were killed by military troops sent to quell student-led demonstrations after the government declared martial law.
 Over a 50-day period, demonstrators, including students, teachers, intellectuals, journalists, and workers, called for democracy, government accountability, freedom of the press, and freedom of speech. In the early hours of June 4, 1989, troops, acting on orders, descended on unarmed demonstrators with rifles, tanks, and bayonets.
 In August 2000, the Center for Constitutional Rights filed a lawsuit against Li Peng(Fengsuo Zhou v. Li Peng), who was premier at the time of the Tiananmen massacre, seeking accountability for our clients, five veterans of the 1989 demonstrations. The suit, brought under the Alien Tort Statute, stated that Li was responsible for "crimes against humanity, including summary execution, arbitrary detention, torture and other torts."
 After 30 years, we remain in solidarity with the brave protesters of Tiananmen.
Examining violence against women in the U.S. foster care system
The Center for Constitutional Rights, in conjunction with Movement for Family Power, National Advocates for Pregnant Women, and other organizations, wrote in response to a call by United Nations Special Rapporteur on Violence Against Women Dubravka Šimonović for information on mistreatment and violence against women during reproductive health care and facility-based childbirth.
 Our joint written submission examines the foster system in the United States and discusses how poor women and women of color, through intensive state surveillance, are targeted for child maltreatment investigations, and subject to forced family separation.
 Read the joint submission on our website.
The Center for Constitutional Rights welcomes our 2019 Summer Interns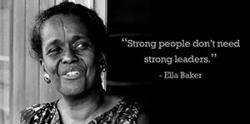 This year the Center for Constitutional Rights is welcoming 16 summer interns. Eleven law students will be taking part in the Ella Baker Summer Internship Program, and five undergraduate students will be working with all program staff.