Center for Constitutional Rights Bertha Justice Fellow Lupe Aguirre and Staff Attorney Angelo Guisado are at the southern border helping asylum seekers. Below is a report of today's events from Lupe.
Here's an update from day two. Stay till the end, it'll get good. Today I continued my work with the UACs [[unaccompanied alien child] doing KYR [Know Your Rights]/legal orientation. We hope that some of them can get processed soon and had the difficult job of trying to prioritize who should try first based on possible future legal issues that may arise given their age and sponsor availability. 
After finishing up with the UACs we headed back to the [Al Otro Lado] offices just in time for two impromptu migrant weddings! Weddings are occurring with the hopes of keeping families together once folks cross over--the practice if folks aren't married has been to separate the unwed parents with the children staying with the mother. The weddings were officiated by volunteer clergy. And of course, no wedding would be complete without cake.  
I'm learning a lot on so many different fronts and meeting amazing and inspiring people (both migrants and volunteers). I'm forever in awe of the human spirit, our resilience, and our ability to find and feel joy in the darkest of times.To paraphrase one of the pastors, today we celebrated revolutionary love in the face of hate.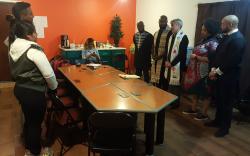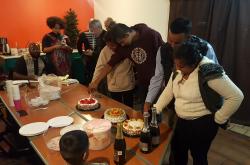 Photo credits: the newlyweds!