CCR granted Special Consultative Status to Economic and Social Council of the United Nations
The Center for Constitutional Rights (CCR) was granted official special consultative status last week with the Economic and Social Council of the United Nations (ECOSOC), which gives CCR the ability to access and contribute to a wide range of UN bodies and mechanisms. With its new status, CCR will be enabled to deepen its years-long UN advocacy for international human rights in partnership with allies, as well as open new channels for its on-the-ground partners and clients to affect UN decision-making on critical political, social and economic issues.
"After five years of presenting our credentials to the UN and responding to questions about our track-record of challenging power from States who don't like scrutiny of their own records, the Center for Constitutional Rights welcomes the decision to grant it special consultative status said Katherine Gallagher, CCR Senior Staff Attorney. "With official ECOSOC status, CCR looks forward to deepening its engagement with U.N. bodies and facilitating access to key international debates and meetings for our partners and allies at this moment when international solidarity is crucial to counter the global attack of human rights."
Experts call on Supreme Court to reverse decision protecting IFC's absolute immunity
Nine NGOs, including the Center for Constitutional Rights, and experts filed an amicus brief Tuesday before the U.S. Supreme Court in support of the Indian fishing communities and farmers who are challenging the International Finance Corporation's (IFC's) claim to absolute immunity in Jam v. IFC. The amici call for the Supreme Court to reverse the lower court's decision, arguing that the decision to uphold IFC's immunity undermines its mission and its accountability system, and challenging IFC's claims that there would be a floodgate of litigation. 
The communities, represented by EarthRights International in this lawsuit, seek to hold the IFC accountable for harms resulting from the Tata Mundra Ultra Mega coal-fired power plant in Gujarat, India, which received an IFC loan in 2008. Affected communities originally sought redress through the IFC's independent accountability mechanism, the Compliance Advisor/Ombudsman (CAO), alleging that the IFC caused the loss of their livelihoods and property and threats to their health. While the CAO found a number of counts of non-compliance, the IFC largely dismissed their findings.
CCR rolls deep at Netroots Nation 18
[caption align="right"]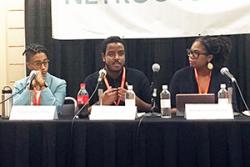 [/caption]
Staff from the Center for Constitutional Rights were in New Orleans, LA, last week for Netroots Nation 18, where we hosted two panel discussions and showed a film series on issues related to our work. This was CCR's 12th year at Netroots Nation, the largest annual conference for progressives, drawing thousands of attendees from around the country. Having a presence at the conference gave us an opportunity to network with allies and introduce our work to new audiences.
While there, we sponsored or participated in the following:
The Race Paper and Other Secret Documents: How the FBI And DHS Are Surveilling and Criminalizing Black Protest
Lawyering in The Age of Trump: Protecting Civil and Economic Rights in The Courts
Fight Pipelines, Fight Racism: Louisiana's #Nobayoubridge Fight is About More Than a Pipeline