This is CCR's weekly "Frontlines of Justice" news round-up, keeping you in the loop about what we've been up to and what's coming soon. Check it out every Monday, your one-stop-shop for CCR opinions, news coverage, reports from court appearances, upcoming events, and more!

You have the Right to Know 
Because the NYPD is the largest police force in the country, New York's policies and laws can have a profound effect on how other cities approach policing. That's why police reform in New York is a national issue. CCR is part of the coalition behind a major push for the Right to Know Act to improve the NYPD's transparency and accountability. CCR's Darius Charney, lead counsel in our landmark stop-and-frisk case, Floyd v. City of New York, spoke at a press conference in front of City Hall on Wednesday.
[caption caption="CCR's Darius Charney speaking out in front of City Hall" align="right"]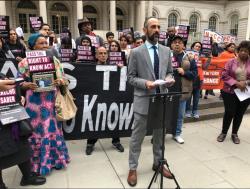 [/caption]
The bills comprising the Right to Know Act have majority support in the New York City Council: the first, Int. 182B, would help end abuses in a range of police encounters by requiring officers to identify themselves and explain the reason for the interaction; the second, Int. 541A, would require officers to obtain objective proof that a person gave informed and voluntary consent to a search. 
The Right to Know Act was introduced over three years ago, and there are now only two months left in the Council's legislative session.
We need people to demand that New York City Council Members Ritchie Torres and Antonio Reynoso end the long delays and either pass the Right to Know Act or discharge it by the November 16 City Council meeting – the last opportunity where council members can pass the bills with enough time to override a potential mayoral veto.
New Yorkers, take action: Call Council Member Torres at 212-788-6966 and Reynoso at 212-788-7095, and ask them to "Pass or discharge the 'Right to Know Act' by November 16."
CCR joins UN meeting in Geneva on corporations' accountability for human rights abuses 
[caption caption="CCR's Dom Renfrey addresses the United Nations on corporate accountability" align="left"]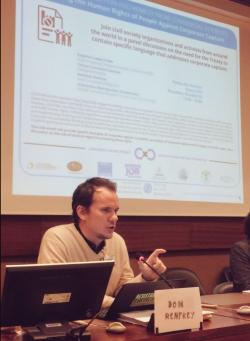 [/caption]
While CCR Senior Attorney Katherine Gallagher and former Vice President Peter Weiss joined the popular podcast Radio Lab's show on the Supreme Court, More Perfect, to talk about the history and impact of an obscure law CCR rediscovered in 1979 as a tool for combating human rights abuses committed abroad, CCR's Dom Renfrey was at the United Nations in Geneva building on the global corporate accountability movement it helped launch. The U.S. Congress passed the Alien Tort Statute (ATS) in 1789 as a law to punish those who violated the "law of nations," those seen as "the enemy of all humankind," such as pirates: who are the pirates of today but multinational corporations that find ways to evade accountability for human rights abuses committed around the globe?
Last week, hundreds of civil society representatives met at the UN in Geneva with diplomats for discussions on a possible binding legal instrument for corporations and human rights. After numerous cases brought under the ATS against companies from Shell to Blackwater to our current case against private military contractor CACI for its role in the torture at Abu Ghraib, that corporations now have legal obligations to respect human rights is no longer a question of debate. You can watch a livestream of Dom's UN presentation here.
Celebrate with us on November 8 
[caption align="right"]
[/caption]
If you have an activist, a lawyer, and a storyteller, you can change the world. We invite you to join us in NYC on November 8 at 6:30 p.m. as CCR Celebrates Changemakers! This exciting and memorable event will include live performances, great food & beverage, and an after-party dance at 9:30 p.m. The highlight of the evening's activities will be a Q&A/conversation with the 2017 CCR Changemakers: activist Opal Tometi, attorney Robert LoBue of the law firm of Patterson Belknap Webb & Tyler, and artist Mariam Ghani. We hope you will join us.
For more information and to purchase tickets, visit the CCR website.