Barbara Blaine, founder and former president of SNAP, the Survivors Network of those Abused by Priests, died on Sunday, September 24, 2017. She was only 61. We are devastated by the loss of our friend and colleague.
CCR's work with SNAP launched in September 2011 with the filing of a complaint at the International Criminal Court (ICC) requesting investigation and prosecution of high-level Vatican officials, including then-Pope Benedict, for the widespread and systematic rape and sexual violence within the Catholic Church. Barbara was the energy and inspiration behind the efforts to bring the issue to international human rights bodies. She had an early instinct and vision that the International Criminal Court was an appropriate forum to deal with the Vatican, an entity with a global presence and reach that fostered a climate where widespread and systematic rape and sexual violence were being committed and covered up with impunity. She was absolutely right. 
[caption caption="Barbara Blaine speaks before the ICC in the Hague." align="right"]
[/caption]
SNAP started out as a tiny group of survivors of sexual violence by priests, who came together to support and validate each other. To reassure one another that they weren't "crazy," as they were sometimes described back then, before the world had begun to comprehend that this was actually happening, and grasp the magnitude and extent of it all and how far up the chain it went in the Vatican (all the way to the top). Barbara talked about how reading Our Bodies, Ourselves gave her the idea to help survivors take matters into their own hands and take control of their own healing and their lives. That little support group eventually exploded into an internationalized movement of over 25,000 survivors in countries around the world.
Barbara described how in the early days they thought if they could just let the bishops know what had happened to them, the problem could then be solved. Then they learned the unthinkable – that the bishops had known all along, and more, that the Vatican had known too. They were able to rally from their own shock and sense of betrayal and isolation to begin the process of calling out the Vatican and church officials – a tiny David taking on Goliath.
[caption caption="Barbara Blaine and other SNAP members at the ICC before they  presented evidence against the Vatican." align="left"]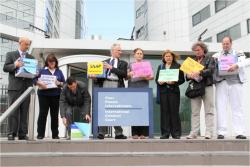 [/caption]
No one ever envisioned back then that they would eventually be responsible, in part, for getting a pope to resign and forcing a church spokesperson to emerge during the ensuing conclave to angrily remind the media that SNAP doesn't get to decide who the next pope is.
You can imagine that going up against such a powerful entity that decides to be your enemy – and against the grain of what people want to believe – can be exhausting. But Barbara was indefatigable and always warm, enthusiastic, encouraging, and supportive of others.
I can't think of any time Barbara wasn't directing her thoughts and efforts to creating a safer world for children, helping survivors feel less alone, and speaking truth to one of the most powerful entities on earth. Those of us here at CCR who had the privilege of working with her, and traveling with her to raise these issues near and far, are feeling the shock and loss. We will continue to stand with survivors and the many who continue the incredible legacy of advocacy and support she leaves behind.