This is CCR's weekly "Frontlines of Justice" news round-up, keeping you in the loop about what we've been up to and what's coming soon. Check it out every Monday, your one-stop-shop for CCR opinions, news coverage, reports from court appearances, upcoming events, and more!

11/9: The recast fears of post 9/11
9/11 created a paradigm shift in which the United States became a scared nation.
11/9 became a turning point in which America's sense of security was tested beyond limits.
9/11 events created an opportunity for the government to manipulate our feelings and cause us to second guess our values in favor of our most base, vindictive instincts. It became normal to view "otherness" with suspicion, making it seem reasonable to conduct illegal surveillance. Our now-stoked feelings of fear made it seem logical to unconstitutionally round up hundreds of Muslim boys and men across the world — the majority of whom were never charged with a crime — and detain them in a legal black hole called Guantánamo Bay for the last 16 years.
9/11 made words and phrases, like "Al Qaeda," "Taliban," "mass weapons of destruction," and "War on Terror," household terminology, so much so that we softened to the idea of the imprisonment and torture of innocent Iraqi men and women.
9/11's fog of alarm and paranoia made us believe that no one should be held accountable for the years of torture those people endured at Abu Ghraib. We had been convinced they deserved that brutality.
As we pause today to remember the 2,977 victims who died on 9/11, we cannot overlook the upheaval of America's mindset that continues to bubble over with the irrational fear that terrorists are all around us.
11/9 ­— the day we woke up to the results of the presidential election ­— was another catastrophic event, this time internal.
 11/9 is also testing the Constitution in an unprecedented way. Our democratic threat level went from yellow to orange to red. A shocked congress stands by while the president rules by fiat, thumbs his nose at the rule of law, and has his Attorney General tasked with undoing everything that we hold dear.
11/9 allows the president to weaponize fear in immigrant communities with the unwinding of DACA, failed attempts at a Muslim Travel Ban, and the pardoning of Sheriff Joe Arpaio.
11/9 is creating extraordinary fear and uncertainty with a White House that encourages White supremacists, all the while silencing the people who seek to uphold our greatest values of justice in a time of violence and discord.  
But in times of great threat to the very security of our nation, we must remember what we stood for prior to both catastrophic events, and activate both our fiercest fighting instincts and our deepest sense of love and community. In the post 9/11 and 11/9 periods, CCR is committed to fighting opportunistic attacks on our democracy and people. We will not be bullied by a cowardly ideology of hate or fear, nor will we abide its manifestations by people who seek to destroy the fabric our communities. Resistance is our civic duty.
Comprehensive report on Ag-Gag laws published 
Ag-gag laws prohibit undercover investigations and whistleblowing in animal agricultural facilities. They have increased in response to more than 80 investigations conducted by animal rights activists in the last decade documenting the horrific violence inherent in animal agriculture.

Activists have defeated 33 ag-gag bills in a dozen and a half states since 2012. But a handful have become law—and been quickly challenged in court. CCR has submitted amicus briefs in cases challenging Idaho's and Utah's Ag-Gag laws, arguing that they stifle newsgathering and violate the First Amendment, singling out for punishment speech that is critical of violence against animals in agriculture. 
[caption align="right"]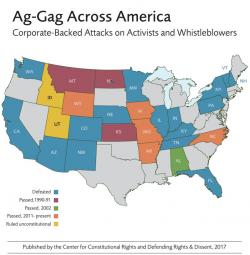 [/caption]
CCR's challenge to Ag-Gag laws is part of our longstanding efforts to combat the criminalization of dissent and, in particular, to defend animal rights and environmental activists targeted by the Green Scare.
On Wednesday, CCR and Defending Rights & Dissent published "Ag-Gag Across America: Corporate-backed Attacks on Activists and Whistleblowers."
The report traces the development of Ag-Gag legislation; details each existing Ag-Gag law and discusses the legislative history of its passage. The report also places Ag-Gag in historical and political context, among broader efforts to criminalize animal rights activism as "eco-terrorism"; explores the constitutional issues inherent in Ag-Gag laws; and documents several successful campaigns to defeat Ag-Gag legislation.
Vatican shows no commitment in protecting children from sexual violence 
After the Survivors Network of those Abused by Priests (SNAP) and CCR brought a case to the International Criminal Court charging that Vatican officials enabled widespread and systematic rape and sexual violence in church settings around the world, other international human rights bodies began paying attention, including the United Nations Committee on the Rights of the Child.
The Committee summoned the Vatican to report on its record in addressing widespread sexual violence within the Church and in 2014, after reviewing a wealth of data and information, including submissions from SNAP and CCR, the Committee concluded that the Vatican must undertake a series of reforms in order to meet its obligations under the Convention on the Rights of the Child. Last Monday marked the Vatican's deadline to submit a comprehensive report on their progress, but the committee has not received anything thus far.
SNAP and CCR submitted a report Tuesday to the Committee detailing how, after three years, the Holy See has not implemented any of the committee's recommendations aimed at ensuring the protection of children from sexual violence.
In their report, SNAP and CCR detail the Holy See's failure to implement any of the committee's recommendations, including increasing child protection from sexual violence and accountability for perpetrators and those who cover-up and conceal the offenses. The groups underscored the continued urgency to remedy this crisis, as revelations continue to unfold across the world of the widespread and pervasive nature of sexual violence in the Church; as one example, they point to Guam, where, since 2014, more than 100 survivors of sexual abuse have come forward to sue perpetrators at the top tiers of the island's Archdiocese of Agaña.
"This latest report details the Church's continued failure to take serious steps to end sexual violence within the Church," said CCR staff attorney Pam Spees. "Church officials are quick to decry efforts to hold them accountable as scapegoating or anti-Catholic sentiment and deflect by pointing to instances of sexual violence in other religious contexts – a clear false equivalence. No other entity on earth has the Church's global presence and power to conceal the offenses and insulate its perpetrators through the religious, political, and financial influence it wields. And, conversely, no other entity has the same power and ability to stop it and protect as many children around the world."
For more information on SNAP's accountability efforts, see CCR's case page here.
Ailing Guantánamo client in desperate need of independent medical examination
Since the prison opened in 2002, CCR has been at the forefront of the legal battle against indefinite detention and torture at Guantánamo, representing many current and former detainees, including. Sharqawi Al Hajj. Sharqawi is a 43-year-old Yemeni citizen who has been detained at Guantánamo without charge since 2004. Before Guantánamo, he was detained in secret prisons in Afghanistan and Jordan.
Sharqawi is in poor health and recently lost consciousness in his cell and was admitted to the hospital after going on hunger strike and refusing to submit to force-feedings. His hunger strike compounds long-standing concerns about his health. Prior to his detention, Sharqawi was diagnosed with the Hepatitis B virus, an infection affecting the liver that can be life-threatening, and experiences chronic, potentially ominous related symptoms, including jaundice, extreme weakness and fatigue, and severe abdominal pain.
CCR filed an emergency motion  Wednesday asking for an independent medical examination and medical records. As a medical declaration submitted in support of the motion states, Sharqawi's symptoms may also be associated with his prior torture which, together with his hunger strike, could lead to "total body collapse."
"As it has virtually every time we have sounded an alarm about detainees, the government will deny there's anything wrong, as if captivity for over 15 years with still no end in sight, on top of the documented torture these men have been through, is healthy, legal, and moral," said Pardiss Kebriaei, a senior staff attorney at CCR. "The human experiment at Guantánamo —where our government tests how far it can go, first with torture and now with hopeless, perpetual detention before breaking human beings — must end. Since the Trump administration will do nothing to respect human rights and the precarious health situation of our client, the courts must order him to."
For more information on Sharqawi, visit his profile page. 

Landmark hearing: IACHR preliminarily says U.S. should make reparations to Guantánamo detainee for abuse and discrimination
For nearly 12 years, Djamel Ameziane, an Algerian citizen, was arbitrarily detained without charge at the Guantánamo Bay prison camp. During his detention, Djamel was tortured and suffered from other forms of abuse. In 2008, the U.S. approved his release from Guantánamo, yet he remained imprisoned for another five years. In December 2013, Djamel was forcibly returned to Algeria despite having fled from violence and persecution for belonging to a minority ethnicity.
[caption caption="Djamel Ameziane (Photo by Debi Cornwall)" align="left"]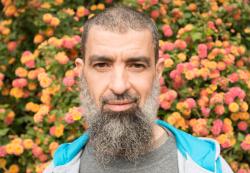 [/caption]
Since his return to Algeria, Djamel has been living with his brother and his brother's six children. For a while, he didn't have any identity documents, so he could not earn an income. But even now, with identification, Djamel cannot find steady work because of the Guantánamo Bay stigma, and he has not had any success with getting aid from government agencies.
Before Djamel was detained, he was working as a cook in Canada. At detainment, the U.S. Government seized Djamel's savings, and has not returned his money.
At a landmark hearing Thursday in Mexico City, the Center for Justice and International Law (CEJIL) and CCR asked the Inter-American Commission on Human Rights (IACHR) to hold the U.S. accountable for Djamel's abuse and discrimination.
The hearing marked the first time the IACHR was asked to issue a merits report based on human rights violations suffered by a former detainee at the Guantánamo Bay detention center. Throughout their presentation, the petitioners highlighted the importance of the Commission's role in addressing the impunity and lack of reparations in Djamel's case, and also highlighted that his detention and torture were never contested by the State. Moreover, the petitioners noted that the decision itself would mark a historic victory for Djamel and other victims of the War on Terror.
For their part, the Commissioners stated they would continue to study the issue and expressed consternation at Djamel's prolonged detention at the camp without any charges, indicating that reparations should be made, including, at a minimum, that his personal belongings be returned.
"Over the past 16 years, the Commission has not yet issued a Merits Report in relation to the violations committed by the United States within the framework of the War on Terror, despite having multiple pending cases regarding rendition, unlawful and arbitrary detention and torture at Guantánamo," said J. Wells Dixon, Senior Staff Attorney at CCR. "We urge the Commission to build on existing jurisprudence and decide the present case, consolidating a set of standards that will have implications in this region and globally."
At a time when President Donald Trump has repeatedly stated his intention to not only keep the detention center open, but to fill it up, the petitioners voiced Djamel's own requests, which he had previously submitted in writing.
"Members of the Commission, what I respectfully ask of you today is this: Please issue a merits decision and decide my case. I ask you to order reparations and other relief so that I can get the assistance that I need and move forward with my life, and put Guantánamo behind me forever," Djamel wrote in his statement. "I also want an apology. I ask the representatives of the U.S.: Will you say on behalf of your government that you are sorry for what the U.S. Government did to me?"
If the IACHR rules in favor of Djamel, it would be the first case regarding human rights violations committed at the Guantánamo Bay prison that a regional human rights body issues a decision on. The decision would mark a historic victory for him and Guantánamo Bay detainees and their right to judicial reparations.
Read Djamel's powerful statement in full here.