The racist ex-sheriff Joe Arpaio, recently pardoned by his friend Donald Trump, is a despicable human being. He has proudly called his outdoor "tent city" jails "concentration camps", and his police forces violently terrorized Latinx communities throughout Maricopa County for decades.
The man is not "controversial" – he is a white supremacist. There have been some good articles detailing the horrors of his 23-year reign in Arizona, but we felt another important example was missing.
Beginning in May 2007, Arpaio mandated that those held in his jails could only send and receive mail via postcards (except for legal mail). Letters and envelopes are banned. Writing to your mother or your partner? Squeeze it onto half of a 4.25 x 6-inch card. But it gets worse – you're going to be required to use one of several cards custom-designed by Arpaio himself. The vilest features a smiling Arpaio sitting on the floor of a jail cell, overrun by puppies – one is even crawling up his shoulder – with the tagline "Rescued Dogs & Cats enjoy Sheriff Joe Arpaio in an Air Conditioned Jail…" On the back of the card, in small lettering, it continues: "While inmates live in the desert's Tent City, rescued dogs and cats enjoy the air conditioned comfort of a converted jail." The "dogs and cats" variant is just one of several demeaning options available to those held in Arpaio's tent cities, where scalding temperatures might melt shoes during the day, and at night freezing temperatures would force people to improvise warmth from cups of hot water held between their knees and covered in plastic bags.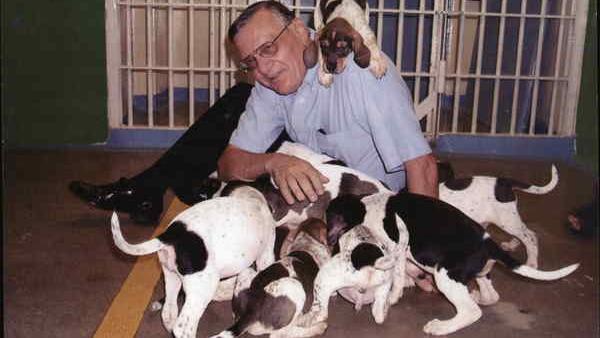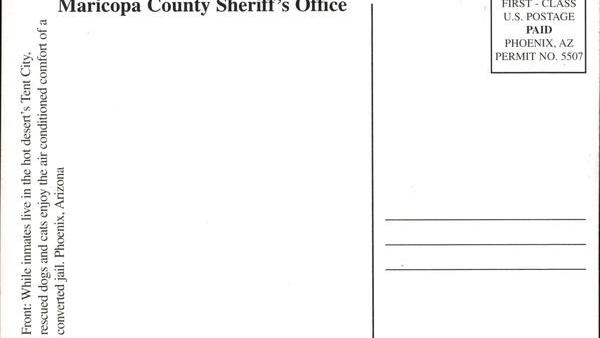 We know about these postcards because CCR and the National Lawyers Guild have received dozens, probably hundreds, of them for the past 10 years – from people incarcerated in Arpaio's jails writing to request our Jailhouse Lawyer's Handbook, a self-help legal guide for people whose constitutional rights have been violated while in prison. And we've seen how Arpaio's despicable mail policy has been copied by a number of other jurisdictions in the country – further isolating those incarcerated from family members and communication with the outside world.
In the wake of his pardon and the shameful silence from many politicians and others, let there be no obfuscation of what Arpaio is – a white supremacist tyrant who wore a policeman's outfit, not a "conservative sheriff." Yes, Trump's pardon was a thumb in the eye of the "rule of law" and the Constitution, and may be grounds for impeachment; but much more than that, it was a continuation of his comments post-Charlottesville and his decades-long record of building his brand off of white supremacy, all the way back to his business's anti-Black housing policies in 1973.
Arpaio was finally pushed out last year through incredible organizing by local, immigrant-led grassroots activists and community members – a victory that still shines brightly despite the pardon. Next up: Trump.