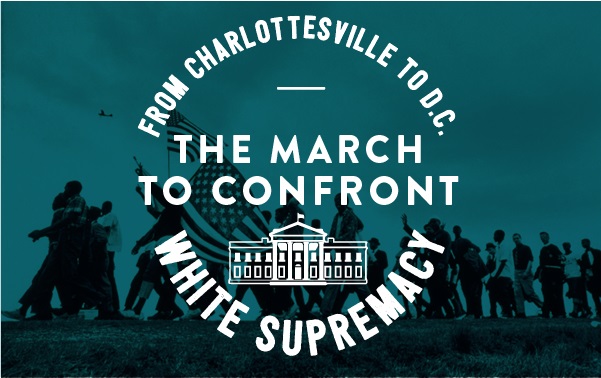 Today, we—the Movement for Black Lives, Color of Change, the Women's March, the Center for Constitutional Rights—and many other organizations and people of faith, will begin a 110-mile march from Charlottesville, Virginia to Washington, D.C. to demand the removal of officials who advance anti-Blackness and enable white supremacists—including President Donald J. Trump.
The nine-day march is in response to the violence and terrorism that occurred August 12, when hundreds of armed white supremacists erupted in Charlottesville to silence and attack local racial justice efforts. As you already know, white supremacists rioted violently, resulting in many injuries, the death of one local woman, and a response from President Trump that makes it clear that although he sees "many sides," he will only accept one racial hierarchy—one that has whites at the top and in position to control and dominate others.
As an Afro-Boricua, it is not lost on me that U.S. anti-Blackness and white supremacy pre-date the Trump administration. After all, Puerto Rico has been a colony of the United States since 1898; it was under the Obama administration that the Movement for Black Lives began and an unprecedented number of families were separated through deportations; the Bush administration exacerbated the mass criminalization of Muslims; the Clinton administration fueled the rise of mass incarceration of poor people of color; and U.S. politicians from both of its main political parties have utilized strategic racism in the form of dog whistle politics since the 1960s. 
To this point, even though some marchers will become physically disoriented during the journey to D.C., our political clarity will remain: Removing Trump from the White House will not by itself bring about the transformative change that marginalized people—here and around the world—need. However, removing Trump from the U.S. presidency, along with removing other politicians who (either routinely or sparingly but strategically) further anti-Blackness and white supremacy, is necessary if we are to prevent more violence and begin to strip away harmful, unequitable systems and structures. 
As such, we will march to the White House to confront white supremacy's presence, that which runs deep in both our present government and our past history. 
In doing so, we demand that President Trump be removed from office.
We demand an agenda that repairs the damage done to people here and around the world. (Yes, reparations and all.)
We demand an end to racial hierarchy and white supremacy, and we will march, and build, and challenge unjust power until we are free of both. 
If you are interested in learning more or joining us, check out www.cville2dc.us and follow the hashtag #cville2dc.
Pa'lante. Siempre, Pa'lante!