This is CCR's weekly "Frontlines of Justice" news round-up, keeping you in the loop about what we've been up to and what's coming soon. Check it out every Monday, your one-stop-shop for CCR opinions, news coverage, reports from court appearances, upcoming events, and more!
As possibility for Trump impeachment looms, CCR jumps in on Russia investigations
[caption caption="CCR Attorney Shayana Kadidal on Democracy Now!" align="left"]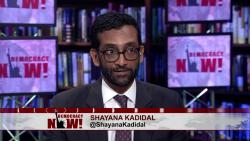 [/caption]
As turmoil over investigations into Russian interference in the presidential election continues, CCR has been digging for the truth.
Following former FBI Director James Comey's testimony before the Senate Intelligence Committee, CCR attorney Shayana Kadidal appeared on Democracy Now!, breaking down the impact of Comey's sworn statement that Trump lied about his reasons for firing Comey and obstructed justice.
And on Wednesday, after Attorney General Jeff Sessions testified before the Senate Intelligence Committee, CCR filed a Freedom of Information Act (FOIA) request seeking the immediate release of the Department of Justice records Sessions alluded to. 
Sessions refused to answer questions about potential interference with the ongoing Russia investigation, even though he said that Trump had not invoked executive privilege to prevent him from answering senators' questions. When probed by Senator Kamala Harris about his refusal, he stated that the basis for his refusal to answer questions was actually part of existing DOJ policies.
"The existence and terms of this supposed policy prohibiting the attorney general from answering investigators' questions must be made public immediately," said CCR senior attorney J. Wells Dixon. "At stake is both the public's ability to engage with the critical legal and political issues surrounding this case and, more broadly, the question of whether the president and the Attorney General of the United States are violating the Constitution and engaging in a campaign to obstruct ongoing criminal investigations."
Read the full press release and FOIA request here.
Demanding transparency and accountability in latest ICE detention death  
[caption caption="credit: Melanie Cervantes" align="right"]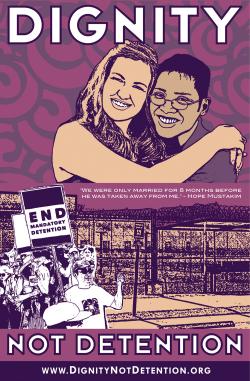 [/caption]
On Thursday, CCR joined immigrant rights organizations including the Queer Detainee Empowerment Project, Families for Freedom, Immigrant Detention Project, and Detention Watch Network in mourning the passing of Carlos Mejia-Bonilla, who died Saturday, June 10 while in ICE custody. ICE has yet to reveal the New York-area detention center where he died.
This lack of transparency is particularly alarming as the death toll rises across detention centers nationwide. Mejia-Bonilla's passing marks 174 deaths in detention since 2003 — a shameful record exposing ICE's inability to guarantee the safety and health of people in its custody and the tenth this year according to an ICE press release. Recent investigations into deaths in immigration detention have found that inadequate medical care at detention centers has contributed to numerous deaths. 
"ICE must publicly reveal the detention center where Mejia-Bonilla was held prior to his death. It is unacceptable that they would deliberately withhold crucial information as we try to understand what led to this tragedy," said CCR senior staff attorney Ghita Schwarz.
You can read the full press release here. 
Bellant v. Snyder: fighting racist "Emergency Manager" laws and corporatization in Michigan  
Last week, five Michigan officials, including the head of the state health department, were charged with involuntary manslaughter for their role in Flint's water crisis. The charges follow state felony charges brought against two former state-appointed emergency managers in Flint back in December. Since 2013, CCR, together with the Sugar Law Center and other Michigan groups, has been fighting the laws that allowed emergency managers to take control of Flint's government in Bellant v. Snyder; the case challenges the constitutionality of replacing democratically-elected mayors and city and town councils in predominantly Black and brown communities of Michigan with unelected, state-appointed emergency managers.
CCR argues that Michigan's appointing of emergency managers shows profound racial bias, with 50 percent of all Black Michigan residents currently being governed by emergency managers and, in essence, being denied their fundamental right to vote and be represented by elected officials. Meanwhile, only two percent of Michigan's white residents are subject to the unchecked authority of emergency managers. We are waiting to see if the Supreme Court will take our case.
The battle against emergency manager laws is at its core a fight for the dignity and self-determination of Black and brown communities in Flint and greater Michigan. But the implications of these laws reach even further than the Flint water crisis, and behind them is an insidious agenda of privatization in Michigan and across the country.
Central to this agenda is The Mackinac Center, a right-wing "think tank" funded in part by Dick DeVos, the father-in-law of Secretary of Education Betsy DeVos. As noted in Mother Jones, The Mackinac Center is a leading member of the American Legislative Exchange Council (ALEC), which has developed and lobbied for passage into law such notorious legislation as the 'self-deportation,' 'stand-your-ground,' voter ID, and many union-gutting laws across the country. Longtime Mackinac associate Louis Schimmel was appointed by Governor Snyder to be emergency manager for Pontiac, Michigan, after which he promptly fired the city's clerk, attorney, and director of public works. Governor Snyder has also used the threat of appointing an emergency manager to bargain for the renegotiation of union contracts and outsourcing of city work in Detroit.
In Bellant v. Snyder and beyond, CCR will continue to stand with Black and brown communities in Michigan and everywhere to fight the racist practices and corporate agendas of privatization.