This is CCR's weekly "Frontlines of Justice" news round-up, keeping you in the loop about what we've been up to and what's coming soon. Check it out every Monday, your one-stop-shop for CCR opinions, news coverage, reports from court appearances, upcoming events, and more!
How do we think about the Comey firing?
In a move straight out of the totalitarian playbook last week, Trump fired the man in charge of the criminal investigation into his campaign's collusion with Russia. CCR has no love for James Comey or the FBI, which never has and never will serve as a check on power. This is, after all, the same FBI that has long been infiltrating and destabilizing our communities and organizations. But Trump's blatant move is a consolidation of power the likes of which we haven't seen since Nixon in the 70s. CCR Executive Director Vince Warren dashed off a rant the night it happened.
Also on the blog, CCR Legal Director Baher Azmy remembers our beloved Michael Ratner on the one-year anniversary of his death.
Groups file amicus briefs asking SCOTUS to hear case related to Flint water crisis
[caption align="right"]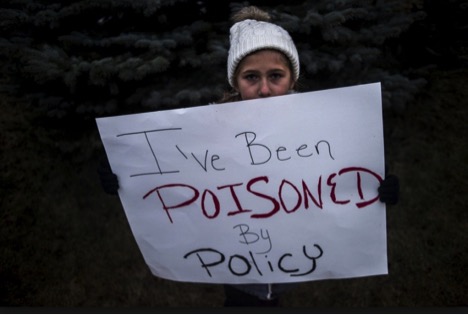 [/caption]
Two amicus briefs were filed with the Supreme Court on May 8 in support of our petition for cert in Bellant v. Snyder. Latino Justice and Demos's joint brief frames Michigan's emergency manager law amongst the many historical tactics and maneuvers designed to dilute or deny people of color the right to vote. It argues that the Voting Rights Act was intended to apply to schemes like the emergency manager law, which disproportionately deprives voters of color of their right to participate in the electoral process by stripping the officials that they elect to represent them of their governing authority, while continuing to allow most majority-white communities to be represented by the officials they elect. The Michigan Civil Rights Commission's brief tells the story of how the vote dilution caused by the emergency manager law hindered the people of Flint's ability to get the attention of government officials during the Flint water crisis because emergency managers were only accountable to the governor, of whose electorate the people of Flint made up only about one percent. Read the briefs and learn more about the case here.
A picture is worth a thousand words

Last week in Virginia, CCR Executive Director Vince Warren and Bertha Justice Fellow Noor Zafar had their words illustrated in real time at a profoundly moving gathering organized by a CCR supporter. The purpose of the event was to introduce a range of CCR's work to a group of progressive Muslims who are deeply concerned about the current administration. Brian Tarallo did the illustrating.
Watch a time-lapse video of the drawing: you won't believe how cool it is!