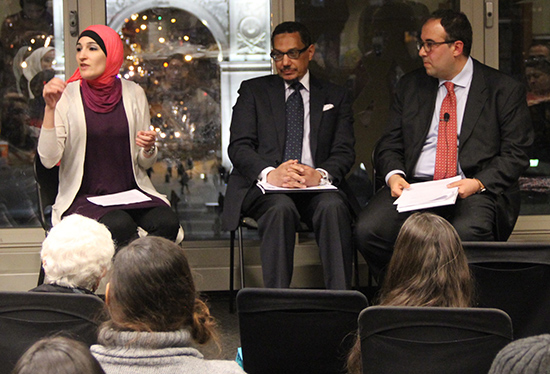 More than 100 people turned out last night for a CCR discussion titled "Challenging the rise of Islamophobia in America: An honest conversation." And an honest as well as far-ranging conversation is exactly what it was. CCR Legal Director Baher Azmy moderated a discussion led by Linda Sarsour, executive director of the Arab American Association of New York and co-founder of MPowerChange.org, and Wahy-ud Deen Shareef, imam of Masjid Waarith ud Deen in Irvington, NJ, convener of the Council of Imams of New Jersey, and a plaintiff in CCR's Hassan v. City of New York case.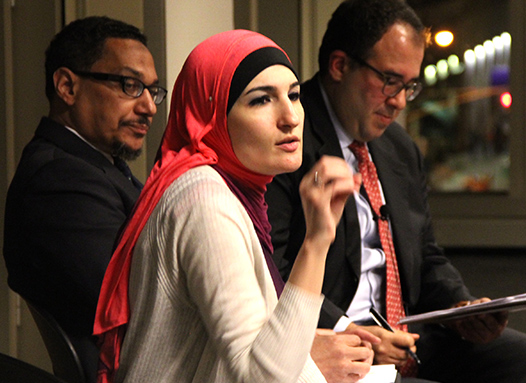 The discussion ranged from what we mean by "Islamophobia" to what kind of alliances we need to build to combat it.
Imam Shareef broke down the essential oxymoron that inhabits Islamophobia: Phobia is fear of something. Islam means peace, submission to God, security, surrender. Are those who seek to oppress us afraid of peace?
Linda Sarsour observed that there are two types of Islamophobia: the kind propagated by individuals, when a woman is attacked for wearing a hijab or a mosque is vandalized, for instance; and the kind where the government that is supposed to protect you feeds people's ignorance and suspicions through its policy. Her concern is when "bigotry is…manifested through policy that then targets the communities we come from."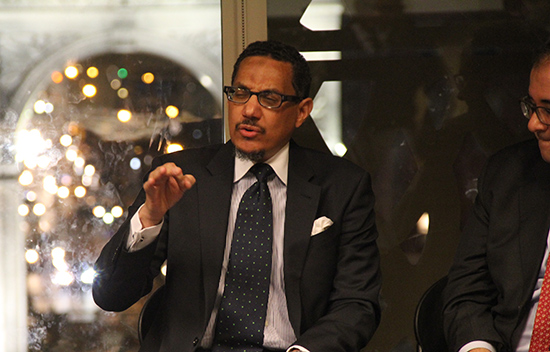 An especially rich part of the conversation had to do with the importance of building connections across and within our communities – alliances with Black communities and others targeted by discriminatory policing like stop and frisk, for instance, and overcoming divisions within Muslim communities. "Understanding our connections is essential," Imam Shareef said.