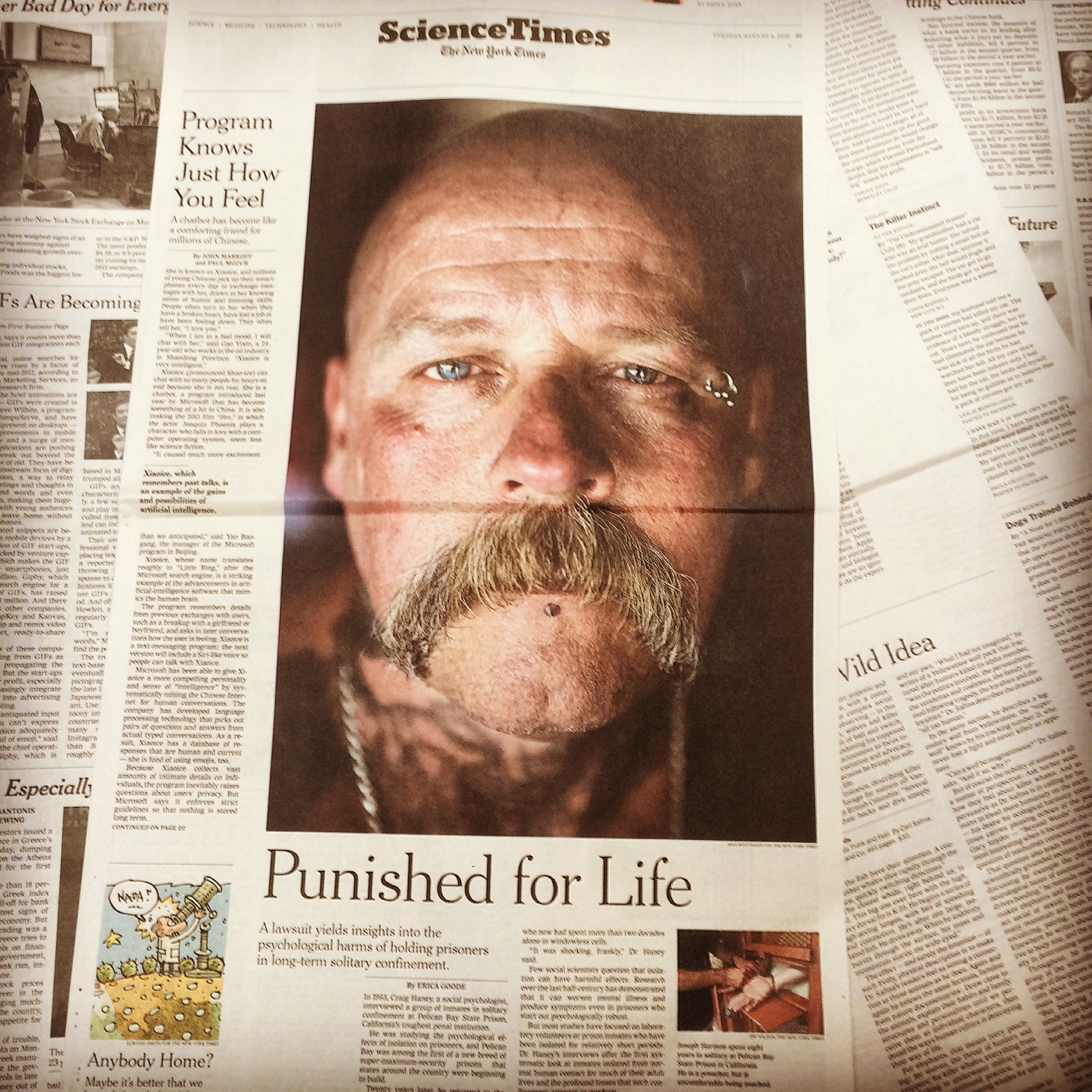 Today's New York Times science section features a front-page piece about the research that CCR commissioned and compiled for our ground-breaking challenge to long-term solitary confinement. "Solitary Confinement: Punished for Life" introduces to the public the 10 expert reports we submitted to the court in Ashker v. Brown, the class-action lawsuit on behalf of prisoners in solitary in California's Pelican Bay prison. Together, this research presents an unprecedented 360-degree look at the science behind how and why solitary confinement causes irreversible physical and mental harm.
According to the expert reports, prisoners subjected to prolonged solitary experience a form of "social death" that is not cured upon release, but rather lingers as a "post-SHU syndrome" characterized by social withdrawal, isolation, and anxiety. One researcher said it was "shocking, frankly" that some prisoners endure decades of isolation. The Science Times piece is accompanied by a moving video of our clients.
The reports also provide evidence that the profound impact of solitary is not just psychological; SHU prisoners experience unusually heightened levels of hypertension, placing them at risk for serious health consequences. The international and domestic experts agree that such prolonged isolation is not only unnecessary for prison security, but actually counter-productive, as well as a violation of international law.
The expert reports – by leading scholars in psychology, neuroscience, medicine, prison classification, prison security, international law, and international corrections – are part of the discovery phase of our case. They are critical to our argument that prolonged solitary confinement violates the Constitution's ban on cruel and unusual punishment.
But the reports do more than support our case. They help the growing national movement to end solitary. By bringing public scrutiny to the severe physical and psychological harm our clients and so many others are suffering as a result of their isolation, we hope to continue turning the tide against this form of torture until it is eradicated from the U.S. once and for all.