CCR launched the Bertha Justice Institute (BJI) to build a new generation of lawyers and legal workers that have the vision, expertise and determination to create social change. The BJI aims to support lawyers and legal advocates at every step in their career—as students, during their first few years of practice, and even as directors and supervisors—on how to connect law and social change.
The BJI supports emerging lawyers both build a vision for their legal practice and gain the necessary skills to be effective advocates in the field. We support more seasoned lawyers by building shared infrastructure to collectively train and inspire newer advocates and by facilitating ongoing reflection and strategic dialogue that supports increased collaboration and innovation. The BJI also creates cultural spaces for connection and community to combat the isolation that most justice lawyers feel.
The BJI is committed to building a national and international network of legal workers, law students, lawyers, law professors, and activists that believe in both human rights and building social movements. CCR and the BJI are part of the global Bertha Justice Network which connects the most cutting-edge legal organizations across the world—in Haiti, Palestine, India, Colombia, the Philippines, South Africa and Europe—to train our respective next generations and build a global movement for justice. 
About the Bertha Foundation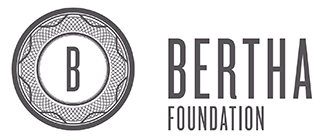 The Bertha Foundation believes that bright ideas, combined with resources and strong leadership, can create profound social impact on a local and global scale. The Foundation is committed to building the power of social activism to generate social, political, economic and environmental change. As a result, the Foundation believes in changing the world by investing in activists, lawyers, storytellers and social entrepreneurs looking to solve social problems. Ultimately, the Bertha Foundation is part of a movement addressing large scale social problems in groundbreaking ways.
Bertha Justice Institute Partners
Community Justice Project, Florida Legal Services
Miami, FL
The Community Justice Project, an initiative of Florida Legal Services, Inc., was founded in 2008 to provide legal support to grassroots community organizations in Miami's low-income communities. Rooted in the law and organizing movement among poverty lawyers, the CJP's dynamic style of law practice has many names – community lawyering, movement lawyering, or political lawyering –but is fundamentally rooted in the belief that those most impacted by marginalization or oppression lead their own fight for social justice. We believe lawyers are most effective when they support community organizations accountable to the persons most affected by social injustice. The CJP's current priority areas are affordable housing and workers' rights.
Bureau des Avocats Internationaux (BAI) - Institute for Justice & Democracy in Haiti (IJDH)
Port-Au-Prince, Haiti - Boston, MA
The Bureau des Avocats Internationaux (BAI) and the Institute for Justice and Democracy in Haiti (IJDH) are sister organizations that help individual Haitians enforce their basic rights—in the courts, in police stations, on the streets—in ways that force the justice system to work better for all Haitians. IJDH and BAI promote the rule of law in the short term, and work for the long-term sustainable change necessary to reduce the vulnerability of the majority of Haitians who are poor.
Loyola University College of Law, Community Justice Clinic
New Orleans, LA
The Community Justice Clinic at Loyola Law School teaches law students substantive, procedural and practical advocacy skills in order to assist clinic clients with housing and civil rights issues. Particular emphasis is placed on social justice issues in the context of community lawyering. Students investigate and analyze law and facts in individual and group contexts, research substantive law, draft pleadings, participate in community education and outreach, and advocate informally, administratively, and through carefully targeted state and federal litigation. Students also master advanced lawyering skills in this clinical section. Each year, the Community Justice Clinic at Loyola Law School partners with the Bertha SJI to train first and second year law students on the principles of movement lawyering and engages students in the practical application of those principles and other legal skill sets.
New Orleans Workers' Center for Racial Justice
New Orleans, LA
The New Orleans Workers' Center for Racial Justice is dedicated to organizing workers across race and industry to build the power and participation of workers and communities. We organize day laborers, guestworkers, and homeless residents to build movement for dignity and rights in the post-Katrina landscape.