The Center's long running film-series is back! Join us for our first screening of the season. 
---
On April 18, the Center for Constitutional Rights and Louisiana Bucket Brigade invite you to join a short-film screening and discussion featuring a group of women community leaders from the area along on the Mississippi River in Louisiana known as "Cancer Alley."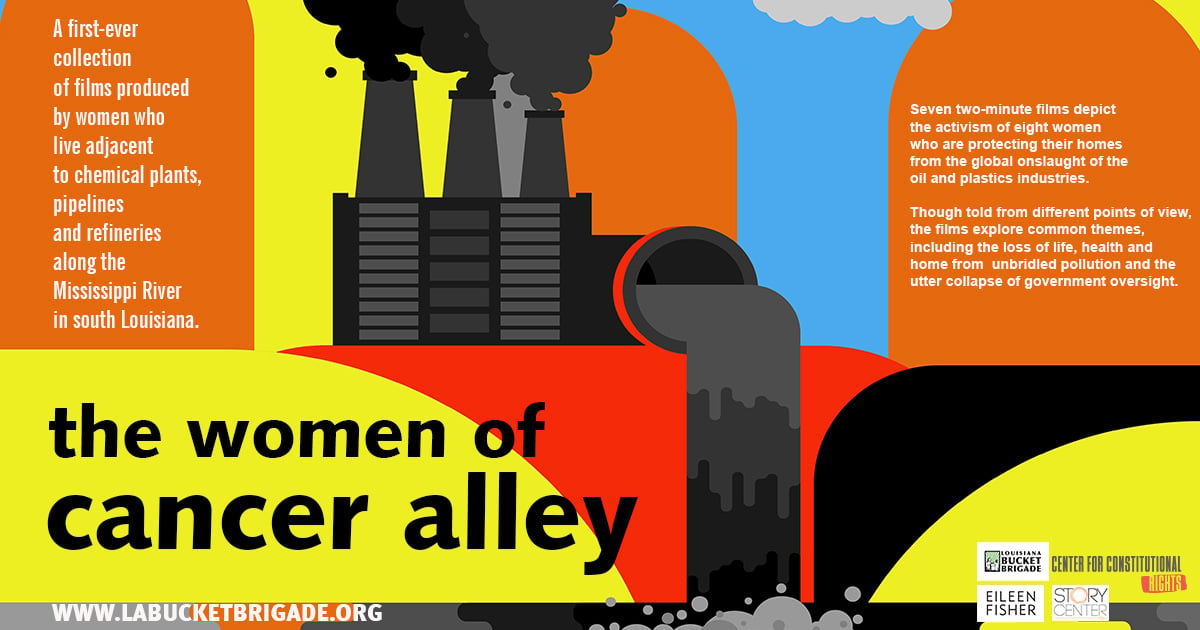 This event elevates a legacy of community resistance to the discriminatory and environmentally destructive presence of the oil, gas, and chemical industry in Louisiana. Today's fight in Cancer Alley, led primarily by Black women living in communities inundated with chemical plants, tank farms, and refineries, is on the front line of the national and global movement to combat climate change and environmental racism.
Join us as these community leaders announce their demand for a total moratorium on new industry plants in their region and a closure of existing plants. Learn how you can support these calls for an end to the destruction of their communities and consider ways we can uplift our collective vision of environmental justice.
Thursday, April 18  
6:00pm – 9:00pm
Ford Foundation Center for Social justice
320 E 43rd St.
New York, NY 10017
"The Women of Cancer Alley" is a ground-breaking collection of short films produced by women who live among chemical plants, tank farms, and refineries in the area along the Mississippi River known as 'Cancer Alley', in south Louisiana. 
---
About Freedom Flicks
At the Center for Constitutional Rights, we believe in the transformative power of art and culture. Freedom Flicks, the Center's long-running film series, harnesses the power of film to educate, activate, and build community. Freedom Flicks engages audiences across disciplines in stories of struggle and courage that shape our world, past and present. Our programming includes screenings of cutting-edge, socially engaged films followed by a short conversation with storytellers, lawyers, and activists. Join us.
When
04/18/2019 from 6:00 PM to 9:00 PM
Location
Ford Foundation Center for Social Justice




320 E 43rd St




New York

,

NY

10017




United States
Event Details
| | |
| --- | --- |
| Interest Areas | Corporate Human Rights Abuses |
| Projects | |
| Modified By | 3163 |
| Date Modified | 2019-04-17 16:01 |