The Center for Constitutional Rights invites you to join us in a fireside chat with renowned human rights activist and general secretary for the European Center for Constitutional and Human Rights (ECCHR) in Berlin
Wolfgang Kaleck
to discuss his new book, "Law Versus Power: Our Global Fight for Human Rights."
Friday, January 25, 2019 | 6 p.m.
Von Bar, Lower Level, 3 Bleecker St., New York City
Please RSVP by January 21,2019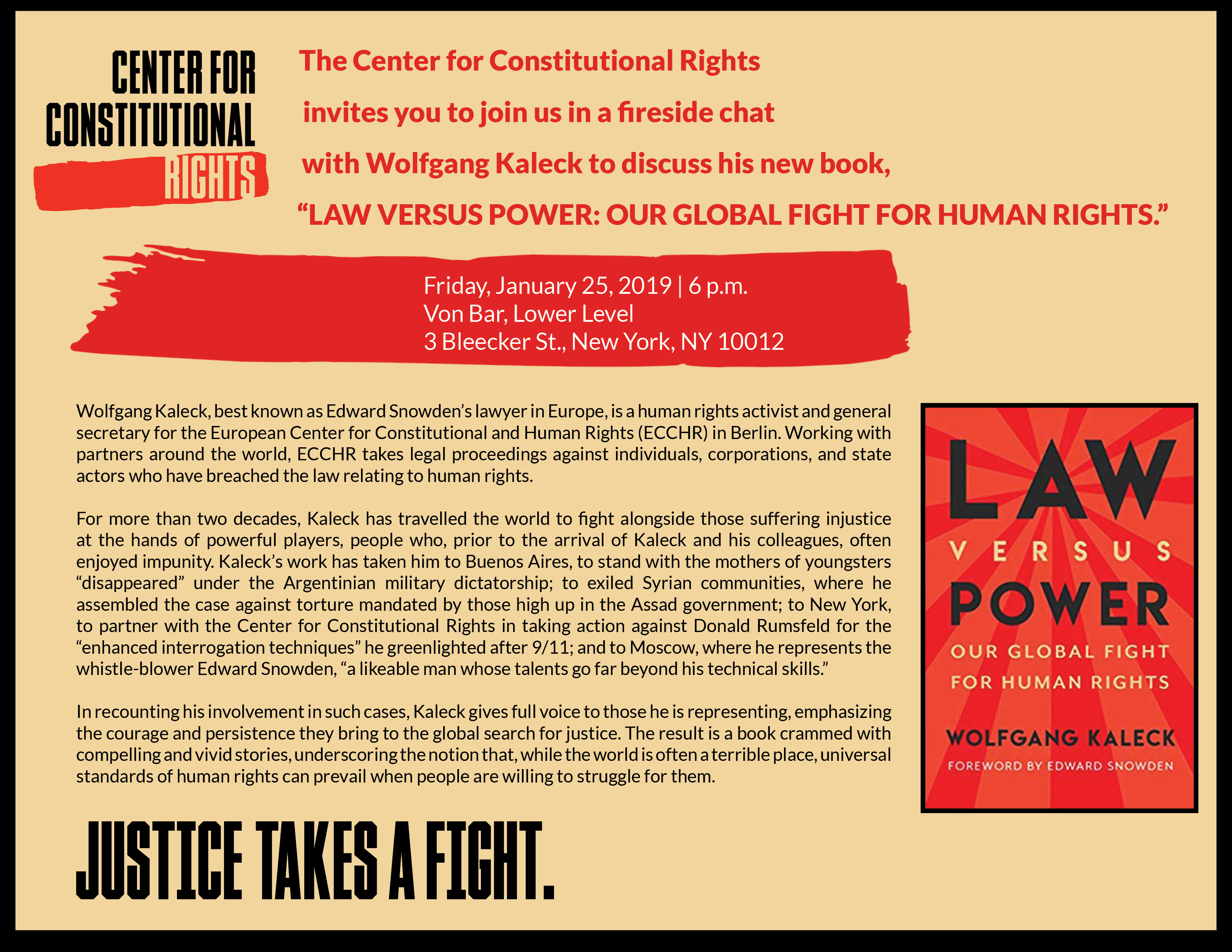 Wolfgang Kaleck, best known as Edward Snowden's lawyer in Europe, is a human rights activist and general secretary for the European Center for Constitutional and Human Rights (ECCHR) in Berlin. Working with partners around the world, ECCHR takes legal proceedings against individuals, corporations, and state actors who have breached the law relating to human rights.
For more than two decades, Kaleck has traveled the world to fight alongside those suffering injustice at the hands of powerful players, people who, prior to the arrival of Kaleck and his colleagues, often enjoyed impunity. Kaleck's work has taken him to Buenos Aires, to stand with the mothers of youngsters "disappeared" under the Argentinian military dictatorship; to exiled Syrian communities, where he assembled the case against torture mandated by those high up in the Assad government; to New York, to partner with the Center for Constitutional Rights in taking action against Donald Rumsfeld for the "enhanced interrogation techniques" he greenlighted after 9/11; and to Moscow, where he represents the whistle-blower Edward Snowden, "a likeable man whose talents go far beyond his technical skills."
In recounting his involvement in such cases, Kaleck gives full voice to those he is representing, emphasizing the courage and persistence they bring to the global search for justice. The result is a book crammed with compelling and vivid stories, underscoring the notion that, while the world is often a terrible place, universal standards of human rights can prevail when people are willing to struggle for them.
Von Bar




3 Bleecker St.




Lower Level




New York

,

NY

10012




United States