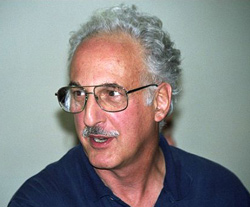 The Center for Constitutional Rights deeply mourns the untimely loss of our beloved Board Chair and former Executive Director Gregory H. Finger. Greg, a longtime social justice organizer and activist, passed away at his home on the morning of December 13, 2010. To the end he believed that the struggle against racism is indispensable to the achievement of justice.
CCR was graced with Greg for 39 years and he was the bedrock upon which CCR was built. Greg dedicated his life to justice and service to humanity. From his work as a young man in the racial justice movements of the 1950's to his years as an organizer for the Congress on Racial Equality (CORE) in the mid-1960's, to his anti-war activism during the Vietnam era, to his more than three decades as director of the co-ed, multiracial Camp Thoreau, Greg was a living, breathing example to all of us of how to speak truth to power and live life to the fullest. Greg's commitment to service was further evident in his many years volunteering as a firefighter, emergency response technician, and community leader.
Greg is greatly missed by his friends and colleagues. Our loss of Greg has opened a gap in our lives that he would have wanted filled with our efforts to make a better world. Our deep and sincere condolences go to his wife, Joan Hollister, his brother Karl, and the host of family members so beloved by Greg. Our hearts are with you all.