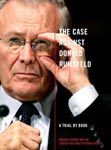 In one impeccably researched and provocative volume, The Trial of Donald Rumsfeld compiles the evidence that the Bush administration is guilty of war crimes and presents it in the form of a court case brought by one of the premier civil and human rights organizations in the United States. The book lays out the proof that high-level officials of the Bush administration ordered, authorized, implemented, and permitted war crimes, in particular the crimes of torture and cruel, inhuman, and degrading treatment in the name of fighting the "war on terror."
Using primary source documents ranging from Rumsfeld's "techniques chart" and Iraqi plaintiffs' statements to the testimony of whistleblowers and key pieces of reportage, the book sets forth evidence of a torture program that took place throughout the world: in Afghanistan, Iraq, Guantanamo, secret CIA prisons, and other places unknown.
"A gripping expose of the systematic, premeditated crimes of Rumsfeld and his colleagues – crimes against humanity more shocking than any committed by U.S. officials in this generation. If we push back against state-sanctioned torture and the tyranny that always, historically, follows upon it, we will have Ratner and his brave team at the Center for Constitutional Rights substantially to thank. An indispensable document and page-turning human story."
-NAOMI WOLF, author of The End of America
The accused are accorded a defense drawn from their memos and public statements. Readers are allowed to judge whether the Bush administration has engaged in torture and whom among the administration to hold responsible.
"Michael Ratner is a hero. This book will be required reading for all of Donald Rumsfeld's lawyers and travel agents – he'll have to check twice before leaving the country if he hopes to stay out of prison. To war criminals walking free among us, beware: Ratner and the Center for Constitutional Rights are on the case! "
-AMY GOODMAN, host of Democracy Now!
Reminiscent of Christopher Hitchens's bestselling The Trial of Henry Kissinger, The Case Against Donald Rumsfeld constitutes one of the only attempts to hold high-ranking Bush administration officials criminally responsible for their actions.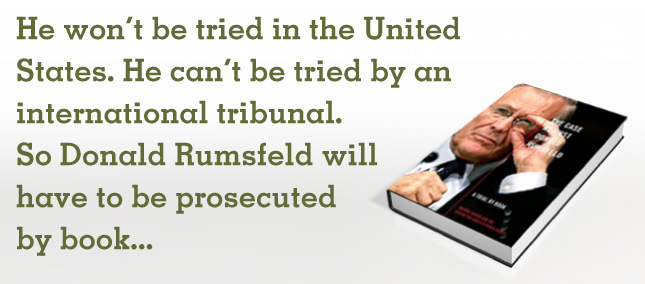 Purchase this book at powells.com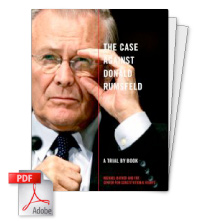 Download a PDF excerpt of the first two sections:
The Opening Statement
The Summary of the Indictment