[caption align="right"]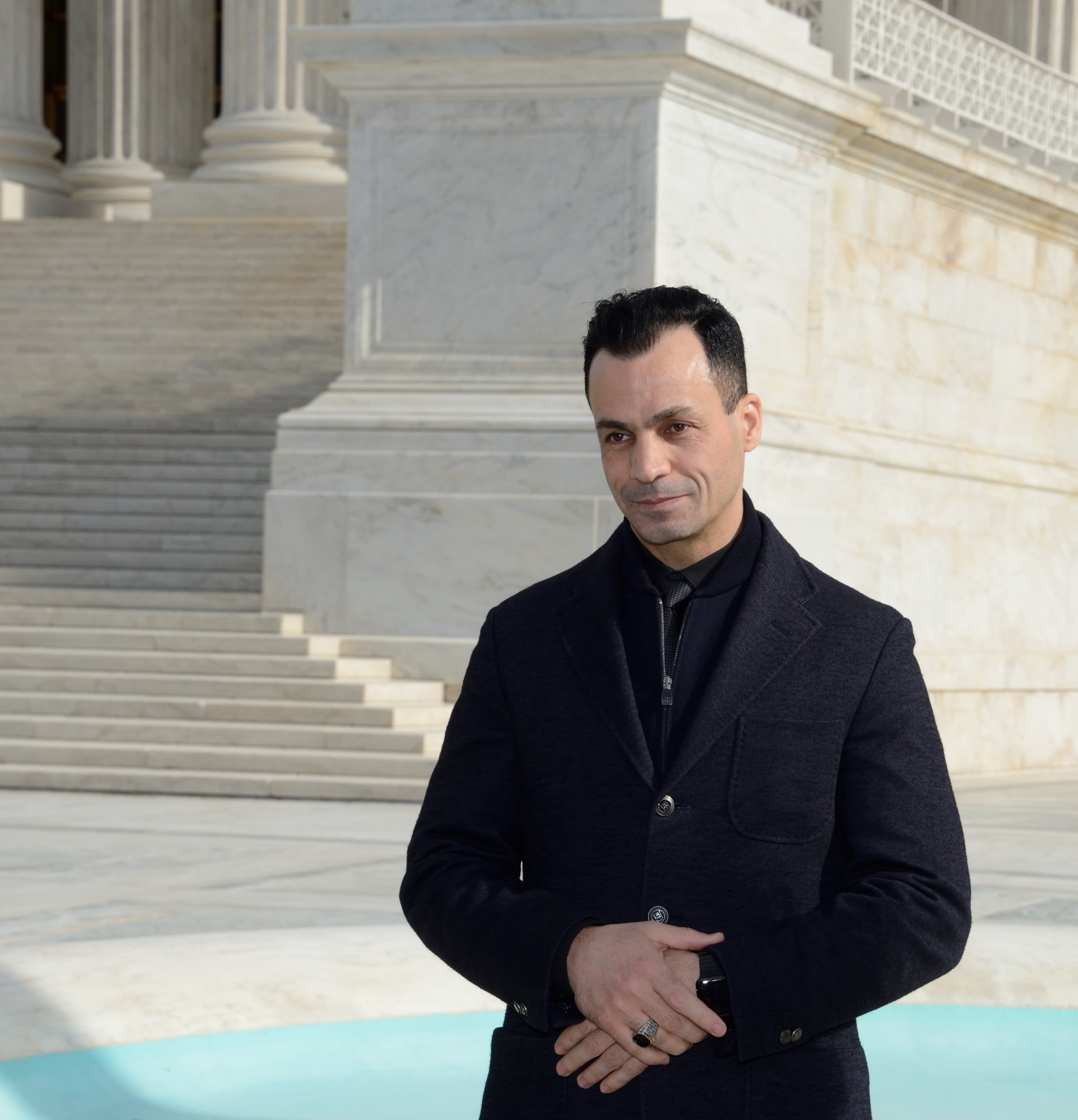 Benamar Benatta outside of the Supreme Court after oral argument[/caption]
Benamar Benatta is a plaintiff in Ziglar v. Abbasi (formerly Turkmen v. Ashcroft), a lawsuit filed in 2002 on behalf of a class of Muslim, South Asian, and Arab non-citizens swept up in connection with the 9/11 investigation. From September 2001 to April 2002, Benamar was detained at the Metropolitan Detention Center (MDC) in Brooklyn, New York, in harsh and punishing solitary confinement in the Administrative Maximum Special Housing Unit (ADMAX SHU). Like nearly a hundred other men, Benamar was detained as a "terrorism suspect" based solely on his race, religion, ethnicity, and immigration status, and abused in brutal detention conditions for the many months it took the FBI and CIA to clear him of any connection to terrorism.
Benamar arrived in the U.S. on a non-immigrant visitor visa in December 2000. He travelled with the Algerian Air Force to receive aviation training and had planned to apply for political asylum in the U.S. before his visa expired. He decided to seek political asylum in Canada instead, and crossed the border with false documentation on September 5, 2001, to apply for refugee status. He was detained by Canadian authorities for investigation, and following the 9/11 attacks a few days later, Canadian authorities alerted the U.S. to his presence in Canada and transported him, against his will, back to the U.S. He was taken into custody by the INS and detained for several days at the Rainbow Bridge port of entry in Niagara Falls, New York, where he was interrogated about his false ID. The INS immediately initiated proceedings to deport Benamar from the U.S., and he was served with a notice to appear at immigration court in September. However, on September 16, 2001, just days before the scheduled hearing, he was transported to MDC in Brooklyn on a private jet, with no explanation.
Benamar was one of the first detainees in the brand new ADMAX SHU. He was placed there without justification, denied access to the outside world, including an attorney, arbitrarily and abusively strip-searched, subjected to sleep deprivation and interference with his religious practice, denied basic personal items like soap and toilet paper, and deprived of adequate food.
"I wouldn't wish what I went through in detention on any human," Benamar said about his MDC detention. "The light in my cell was on 24 hours a day. I was beaten on many occasions and tied to the bed in a manner that reminds me of the Dark Ages, and strip searched almost on a daily basis without any cause. I was paraded half naked outside my cell when I went on hunger strike to denounce my inhumane detention conditions."
For a while, Benamar's only connection to the outside world was a small window, but even that was taken away from him when the MDC officials painted over it as a way to punish him and the other detainees. The brutal conditions of confinement took a huge psychological toll on Benamar, yet he was kept in extreme isolation for months.
"The worst part was not the physical abuse but the mental abuse; something that will have deep impact on you for the rest of your life. Being labeled a terrorist and sitting there in your small cell without any distraction or reading material, and not knowing what will happen to you or where you will end up is the worst thing that can ever happen to a human being."
Benamar was interrogated several times in MDC, yet neither the FBI nor the Bureau of Prisons (BOP) had any actual reason to suspect him of having a connection to terrorism or posing a danger. He was only held as a suspect because of his identity as a Muslim from Algeria. In November 2001, he was officially cleared of any connection to terrorism, yet he remained in solitary confinement until April 30, 2002, when he was transferred to general population. On September 12, 2002, a U.S. magistrate judge recommended dismissal of several pending criminal counts against him—possession of a false social security card and immigration document—holding that his detention in MDC was criminal in nature and violated his Sixth Amendment right to a speedy trial.
Because he feared returning to Algeria, Benamar remained in immigration detention for five years while he continued to seek political asylum. He was transferred to Canadian custody in 2006 and sought refugee status there, which was granted in 2007.
"Many people think that the ordeal is over when you are released from detention, but that's actually when things get worse. You try very hard to get your life back, and you are faced with new challenges that were created by detention, and you realize that life as you knew it before is no longer attainable."
To this day, Benamar struggles to put his life back together. Despite the fact that he graduated with a masters degree from the University of Toronto Institute for Aerospace Studies, he has been unable to secure a job in the aerospace industry because he couldn't pass the security check or provide a reasonable explanation for the five years missing from his resume. "Imagine preparing and going through various phases of a job interview only to be turned down for reasons that are beyond your control," he explained. His detention may be over, but its effects, including the stigma of having been mislabeled a terrorist, have persisted.
In January 2017, Benamar returned to the United States for the first time since his ordeal. "I cannot put into words the overwhelming emotions that I felt when I landed at Dulles Airport and how the good memories kept flooding back during my trip from the airport to my hotel. I used to take similar trips during the weekends when I lived in Alexandria," he recalls. It was during one of those trips that Benamar had visited the Supreme Court as a tourist. On January 18, 2017, he returned once again as the Court heard oral argument in his case, nearly fifteen years after it was filed. "Considering the current political climate, I can't think of any better time for this case to be decided by the Supreme Court," Benamar said. "Unless those leaders, those high-level officials are called to account, nothing will prevent those same policies from being adopted with the stroke of a pen."