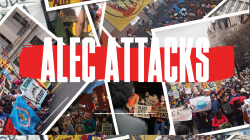 TAKE ACTION: TELL YOUR ELECTED STATE REPRESENTATIVES TO HAVE NO ASSOCIATION WITH THE AMERICAN LEGISLATIVE EXCHANGE COUNCIL!
Choose from the list below the link that corresponds with the state you live in. Click the link and it will take you to a page where you can send an email and tweet at your elected representative to tell them to have no association with ALEC.

Alabama, Alaska, Arizona, Arkansas, California, Colorado, Connecticut, Delaware, Florida, Georgia, Hawaii, Idaho, Illinois, Indiana, Iowa, Kansas, Kentucky, Louisiana, Maine, Maryland, Massachusetts, Michigan, Minnesota, Mississippi, Missouri, Montana, Nebraska, Nevada, New Hampshire, New Jersey, New Mexico, New York, North Carolina, North Dakota, Ohio, Oklahoma, Oregon, Pennsylvania, Rhode Island, South Carolina, South Dakota, Tennessee, Texas, Utah, Vermont, Virginia, Washington, West Virginia, Wisconsin, Wyoming.
Background
The American Legislative Exchange Council (ALEC) is a 46-year-old registered 'non-profit' organization that claims to advance 'limited government, free markets and federalism'. In reality, ALEC is a club of corporations, evangelical Christian activists, and conservative lawmakers that privately draft and promote corporate and conservative-friendly laws that often have a negative impact on people of color. ALEC claims up to a third of all state lawmakers are members of the organization. ALEC members are meeting between Dec. 4-6 in Scottsdale, Arizona, for their annual 'policy summit.'
ALEC is responsible for states adopting a series of infamous laws that have disenfranchised people of color (i.e. Voter ID laws), led to an increase in killings by firearms (i.e. Stand Your Ground laws), punished people that engage in boycotts in support of Palestinian rights (i.e. anti-BDS laws), increased penalties for Indigenous and allied water protectors that advocate to stop oil and gas pipeline development, as well as other measures to deny climate change, denigrate the Queer community, undermine workers' rights ('Right to Work' laws), and combat the 'Fight for $15' (i.e. state pre-emption laws).  ALEC was also central to the small organized protests against stay-at-home policies to prevent the spread of COVID-19.
Our lawmakers must represent everyday people and stop privately working to advance the regressive, pro-corporate objectives of ALEC!
Read the 'ALEC Attacks' report at www.alecattacks.org
For information on our lawsuit against ALEC lawmakers at: https://ccrjustice.org/home/what-we-do/our-cases/puente-et-al-v-arizona-state-legislature.