In This Issue: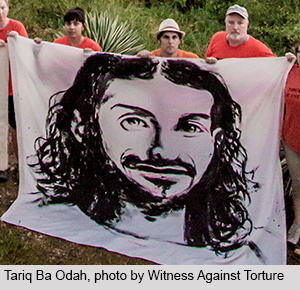 Two more CCR clients released from Guantánamo
Over the weekend, Tariq Ba Odah and Mohammed Al-Hamiri were released from Guantánamo and resettled in Saudi Arabia. Both men have been cleared for released for many years – since 2009 – and we have fervently campaigned for their release; and you, our supporters, have helped keep their names in the public spotlight. "I can't believe there are people outside advocating for us," Tariq said. "I want to thank everyone."
Mohammed and Tariq's attorney, CCR's Omar Farah, had harsh words for the Obama administration; and words of appreciation for CCR supporters, as he recalled both men's responses to the news of their impending release: "They were overwhelmed with gratitude for those that have stood by them, who remembered and told their stories, and recognized the fortitude it takes to survive more than fourteen years at Guantánamo."
Tariq's case made national headlines last year as CCR tried to secure his release on humanitarian grounds. Humiliatingly force fed daily, Tariq has protested his illegal and unjust detention with the only means available to him, his very body, in an uninterrupted hunger strike that started in 2007. In the end, his release is a testament to the power of that protest.
Mohammed has always been among Guantánamo's poetic voices. A man deprived of his freedom, he wrote movingly about what freedom means with a rich array of images and metaphors. "When freedom touches the dark walls of life, it brightens them with colors and brings hope back to those faces that have been waiting for so long and are desperate for the birth of justice and fairness."
Mohammed and Tariq were released along with seven others. Earlier this year, CCR client Fahd Ghazy was also released. These releases come two months after President Obama released his plan to close the prison, a plan we deem "too little, too late" that also includes the unacceptable proposal of importing the regime of indefinite detention to the U.S.
Quote of the week
"After nearly fifteen years of litigating Guantánamo detainee cases, government officials like [Judge Fahl] come and go, but what never seems to change – despite the evidence – is that the detainees lose. They continue to be held indefinitely in an offshore prison, nearly all without charge or trial, and are demonized and dehumanized by people who have never met them nor care to meet with them. And that is why we continue to represent them and challenge the legality of their detention. We are determined to force the closure of Guantánamo. If Judge Fahl and others view that as asymmetric warfare, so be it. We consider it a service to human rights and the rule of law."
– CCR Senior Staff Attorney Wells Dixon
From a blog Wells wrote last week in response to news reports that Judge Douglas Fahl, who will be serving on the government's litigation team at Guantánamo beginning in July, denigrated the legal representation of the detained men by lawyers like Wells and Omar as "legal warfare." Read the full blog here.
Police reform: the legislative front
This Thursday, April 21, New Yorkers across the City will demand the City Council pass the Right to Know Act, legislation which would help end abusive police encounters and unconstitutional searches by the NYPD. This common-sense legislation would require NYPD officers to explain why they are stopping someone, identify themselves to the public, document consent to a search, and provide information to those they stop and search about how they can file a complaint about police conduct.
The legislative reform effort complements the remedial process that CCR and others have been involved in since our landmark victory in Floyd v. City of New York, the case that challenged the constitutionality of the NYPD's stop-and-frisk program.
CCR at 50: Decades of defending voting rights
During this turbulent election season, as disenfranchising voter ID laws are put to the test and voters face hours-long lines in primaries, we are reminded of CCR's decades-long work protecting voting rights. In the midst of the Civil Rights struggle in the South, in 1965 in the so-called "Mississippi Challenge," CCR's founding attorneys, on behalf of the Mississippi Freedom Democratic Party, challenged the seating of members of Congress who had won in racially discriminatory elections, and helped convince Congress to pass the Voting Rights Act.
Since then, CCR has litigated several cases to protect voting rights, from forcing states to comply with the Voting Rights Act—including, years after that first challenge, in Mississippi again…twice— and defending Adam Clayton Powell, Jr., the first African-American elected to Congress from New York, against racially-motivated attempts by the House of Representatives to unconstitutionally remove him from office, to fighting against the disenfranchisement of felons. Racial justice has remained central to these efforts over the years, as we continued to fight, throughout the 1980s and up through the 1990s, against attempts to diminish the voting power of communities of color.
This work continues today, with Phillips v. Snyder, our ongoing challenge to Michigan's emergency manager law, which allows the state to replace locally-elected officials in so-called "financially distressed" municipalities and school districts with unelected emergency managers; it is the law that put in power an emergency manager that switched the Flint water supply to the contaminated Flint River. Half of Michigan's Black residents are under emergency manager governance, while only 2% of its white population is.
From CCR's founding through today, those who wish to exclude certain groups from having a voice in how our country is governed have worked to prevent members of those communities from voting. CCR is proud to have repeatedly stood in their way.