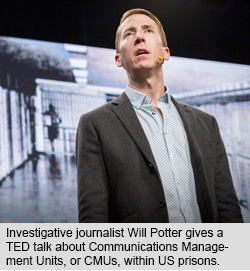 CCR's next prison battle
In September, CCR won a landmark settlement in our California solitary confinement case, Ashker v.Governor of California. This week we will be pressing forward with our case challenging the federal Bureau of Prisons' (BOP) Communications Management Units (CMUs), Aref v. Holder. Prisoners in CMUs are barred from any physical contact with their visitors, and their phone calls, work, and educational opportunities are severely limited. Moreover, while the regulations about CMU placement are murky, the intended target is clear: six percent of the federal prison population is Muslim, but 60 percent of those held in CMUs are Muslim. Many of the remaining prisoners have unpopular political views, including environmental activists designated as "eco-terrorists." Despite the stress of punishing communications restrictions and the agony of not being allowed to even hug a family member, however, the court in March rejected our claim that CMU prisoners have been deprived of their right to due process. The court ruled that the CMUs are not sufficiently unusual, harsh, or restrictive to even trigger due process rights, and thus it did not consider the extensive evidence we presented demonstrating the broken designation and review procedures that have plagued the CMUs since the first one was opened in 2006. This decision must not stand, and on Wednesday we are filing our appeal in the U.S. Court of Appeals for the D.C. Circuit.
Investigative journalist Will Potter made excellent use of the previously-undisclosed documents and policies CCR uncovered in this case in his most recent TED Talk, "The secret U.S. prisons you've never heard of before," which you can watch here.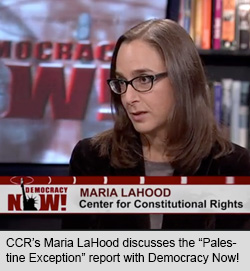 "Palestine Exception" report making its mark
On September 30, Palestine Legal and CCR released a first-of-its-kind report titled "The Palestine Exception to Free Speech: A Movement Under Attack in the U.S." that documents the widespread and growing suppression of Palestinian human rights advocacy in the United States. Since then, thousands of people have come to the CCR website for the report, including 2,600 who visited the report's page the day it was released. Meanwhile, over 400,000 people have watched the accompanying video and video portraits on Facebook, YouTube, CCR's website and Al Jazeera. CCR Bertha Justice Institute Fellow Omar Shakir, together with Palestine Legal's team, have spoken to thousands of students and activists on college campuses across the country about the report and its findings; at almost every event they hear new stories from activists who have been targeted for their human rights advocacy in the ways documented in the report. For many, realizing that their experience is not unique and making the connection to others has emboldened them and helped them break their own silences.
Prof. Steven Salaita – whose firing by the University of Illinois for his supposedly "uncivil" tweets about the Israeli assault on Gaza in 2014 is the best-known example of the trend that "The Palestinian Exception" documents – last week gave an interview to The Intercept about his case. "Graduate students and young scholars are fearful of speaking out on this issue because of the potential career implications of being perceived as a critic of Israel," he said. "It's an example of the compromises to our freedoms that an unthinking commitment to a foreign country can produce."
Such "unthinking commitment" is also on display in a recent Florida state bill that would punish companies that boycott Israel, in clear violation of the First Amendment. Last week CCR, Palestine Legal, the South Florida Chapter of the National Lawyers Guild, and CAIR Florida sent a letter to Florida state senators urging them to withdraw the bill and documenting the ways in which it runs afoul of the Constitution.