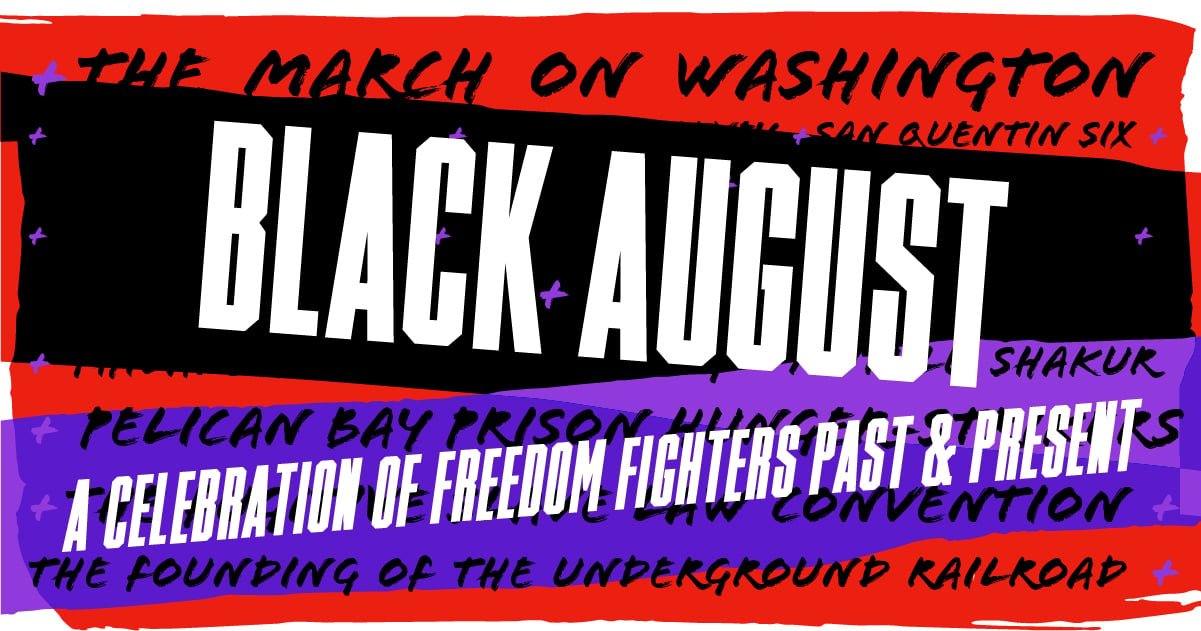 Black August 2021: Fighting for Freedom from the Inside
Black August honors the freedom fighters, especially those inside the walls of our sprawling prison-industrial complex, who, with their vision, tenacity, and deep love for our communities, are leading us toward the horizon of abolition. This year, we celebrate the jailhouse lawyers, who protect and promote the rights of people incarcerated and have been the driving force behind key legal victories that have mitigated the power of the state to cause harm. As they work to secure freedom for all, jailhouse lawyers have improved prison conditions, intervened to stop mistreatment, and used the law to expose the inherent violence and racism of incarceration. The Center for Constitutional Rights is proud to be part of a rich legacy of inside-outside organizing to transform material conditions and build a world of collective safety without prisons, surveillance, and police.
This Black August, we launched the Sixth Edition of our Jailhouse Lawyer's Handbook, a free resource designed to help incarcerated people assert their constitutional rights and hold prison officials accountable. The new edition was released on August 16th, and we hope you will share this tool widely with your friends, comrades, and loved ones. To celebrate the launch and honor our friends and comrades on the inside, we hosted a special virtual event, "Fighting for Freedom from the Inside: Celebrating the Advocacy of Jailhouse Lawyers."
On August 19, in a letter to Congress, we also uplifted the powerful organizing of Cameroonian women inside immigration detention facilities, who have been leading protests for their freedom and dignity in the face of rampant sexism, reproductive injustices, anti-Blackness, and anti-Africanness. The Black August action, taken together with the Cameroon American Council and the #CameroonTPS Coalition, amplified years of advocacy to designate Cameroon for temporary protected status (TPS). Please join us in demanding immediate relief and safety for Black migrants, and ensuring that the resistance of Cameroonian women to detention and ill-treatment is central to our collective commemoration.
Black August is an invitation to reflect on the history of the Black freedom struggle, to celebrate those who have come and gone before us, and to commit to continuing this fight for justice and liberation until we win. We invite you to remember, reflect, learn, and unlearn with our archive of Black August history, artwork, and reflections presented below. 



Black August 2020: Remembrance, Resistance, and Righteous Rebellion
We commemorate Black August in a time of collective grief, clarity, rage, and rebellion. Mighty waves of popular uprising against the ravages of white supremacy and anti-Black racism are flooding the streets, rising within and outside of prison walls, and reverberating through communities and institutions. Upon centuries of enslavement and subjugation exists an intolerable present, where the state continues to wield violent force against Black people in the form of mass criminalization and incarceration, repression and militarized police brutality, and willful neglect and discrimination, only amplified in the face of a deadly pandemic. And so, Black people resist. First, to survive. And, like generations of ancestors before, to fundamentally alter our collective condition and make freedom real. This is the legacy of Black August.
Black August began in the 1970s to mark the assassination of the imprisoned Black Panther, author, and revolutionary George Jackson during a prison rebellion in California. It is a time of reverence to honor political prisoners, freedom fighters, and martyrs of the Black freedom struggle. This month, we celebrate all the political prisoners who have helped us understand that prison is political and that our collective freedom depends on abolishing the state's capacity, through incarceration, policing, and surveillance, to disrupt communities and diminish principled struggle against the unjust status quo. The month of August is also rich with the history of Black resistance outside, from the Haitian Revolution to the Watts rebellion and the Ferguson uprising. Black August is a reminder of the power in unity, and a mandate to continue joint struggle.
For over fifty years, the Center for Constitutional Rights has worked together with people inside, from Attica to Pelican Bay, with freedom fighters, and with survivors, to protect Black resistance and eliminate the power of the state to inflict harm on our communities. Today, we continue working to decarcerate prisons, jails, and detention centers, to end death-by-incarceration sentences, and to push back against the state's violent repression of those demanding a transformed society. As the Black freedom struggle continues, so too does our commitment. Join us this Black August to reflect, to learn and to unlearn, and to advance the righteous rebellion towards Black liberation. Together, we will honor the faith that past resistance has taught us and lean into the hope that the present fight for liberation has brought us.
For more information about currently held political prisoners, you can check these websites to learn their stories and offer support:
Dr. Mutulu Shakur
Rev. Joy Powell
Mumia Abu-Jamal
Sundiata Acoli
Jalil Muntaqim
Russell "Maroon" Shoatz
Veronza Bowers
Ruchell "Cinque" Magee
And more: https://thejerichomovement.com/prisoners



State Repression of the Black Power Movement
Assassination of George Jackson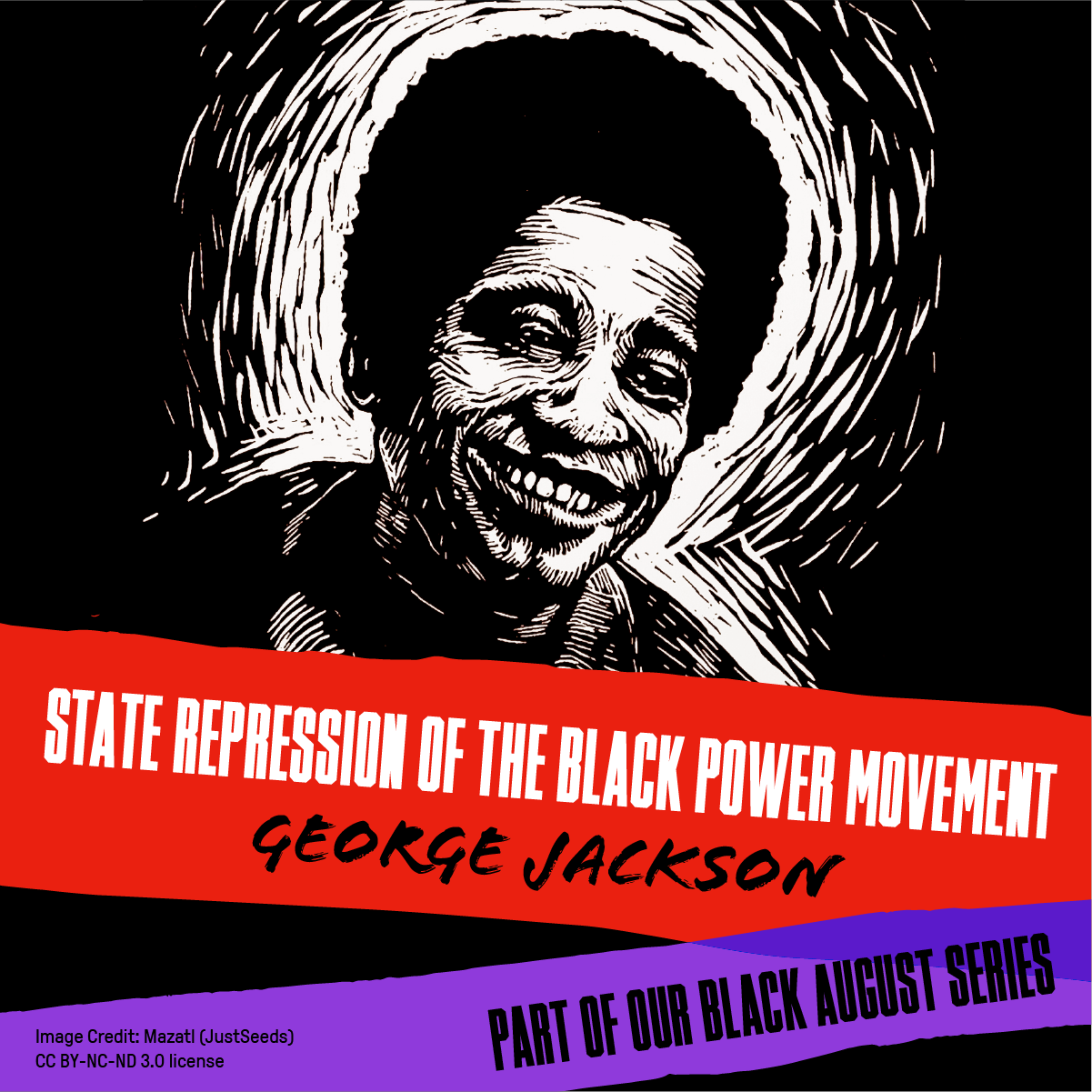 Illustration of George Jackson by Mazatl
Created for the Critical Resistance ten-year anniversary conference in Oakland, California, which took place in 2008. Critical Resistance Ten was a gathering of activists, educators, and allies of prisoners who came together to promote organizing efforts against the US prison system.
Justseeds.org
On August 21, 1971, George Jackson, an abolitionist, author, and prisoners' rights movement leader, was assassinated by guards during a rebellion at San Quentin State Prison. At the time of his murder, Jackson had served 10 years of a one-year to life sentence for stealing $70 from a gas station. Seven and a half of those 10 years served were spent in solitary confinement.
In 1970, while imprisoned, George Jackson, Fleeta Drumgo, and John Cutchette were charged with the murder of Prison Guard, John Mills. The three became known as the "Soledad Brothers." The same year, George Jackson published his prison letters in the book Soledad Brother: The Prison Letters of George Jackson.
Watts Rebellion
On August 11, 1965, the Watts neighborhood of Los Angeles rose up in rebellion in response to police brutality against a Black man during a traffic stop. Mounting instances of police brutality, housing discrimination, and failing school systems served as the kindling for a five-day-long rebellion. Following the uprising, and despite the findings of a gubernatorial commission, city and state officials failed to improve the social and economic conditions in the Watts neighborhood.
Assata Shakur
Former Black Panther Assata Shakur was a target of the FBI's deliberate attempts to criminalize political dissent and intimidate activists. In the 1970s, the FBI's infamous COINTELPRO surveillance program targeted and killed leaders of the Black Liberation Movement using tactics later investigated by Congress and found to be illegal. As recently as 2013, the FBI still included Assata on its Ten Most Wanted list.
Ferguson Uprising
On August 9, 2014, Michael Brown was murdered by a white police officer in Ferguson, Missouri. The collective grief and outrage of yet another Black life taken by state-sanctioned violence incited a community-led uprising that lasted over 300 days and inspired nationwide protests as well as the formation of the Movement for Black Lives, including legal support infrastructure. While the St. Louis County Prosecutor recently announced he would not charge the police officer who murdered Mike Brown, the legacy of the Ferguson uprising is felt today as communities across the globe rise up in defense of Black Lives. Mike Brown Forever.

Resistance to Enslavement
Black August Celebrates the History of Black Resistance in the U.S.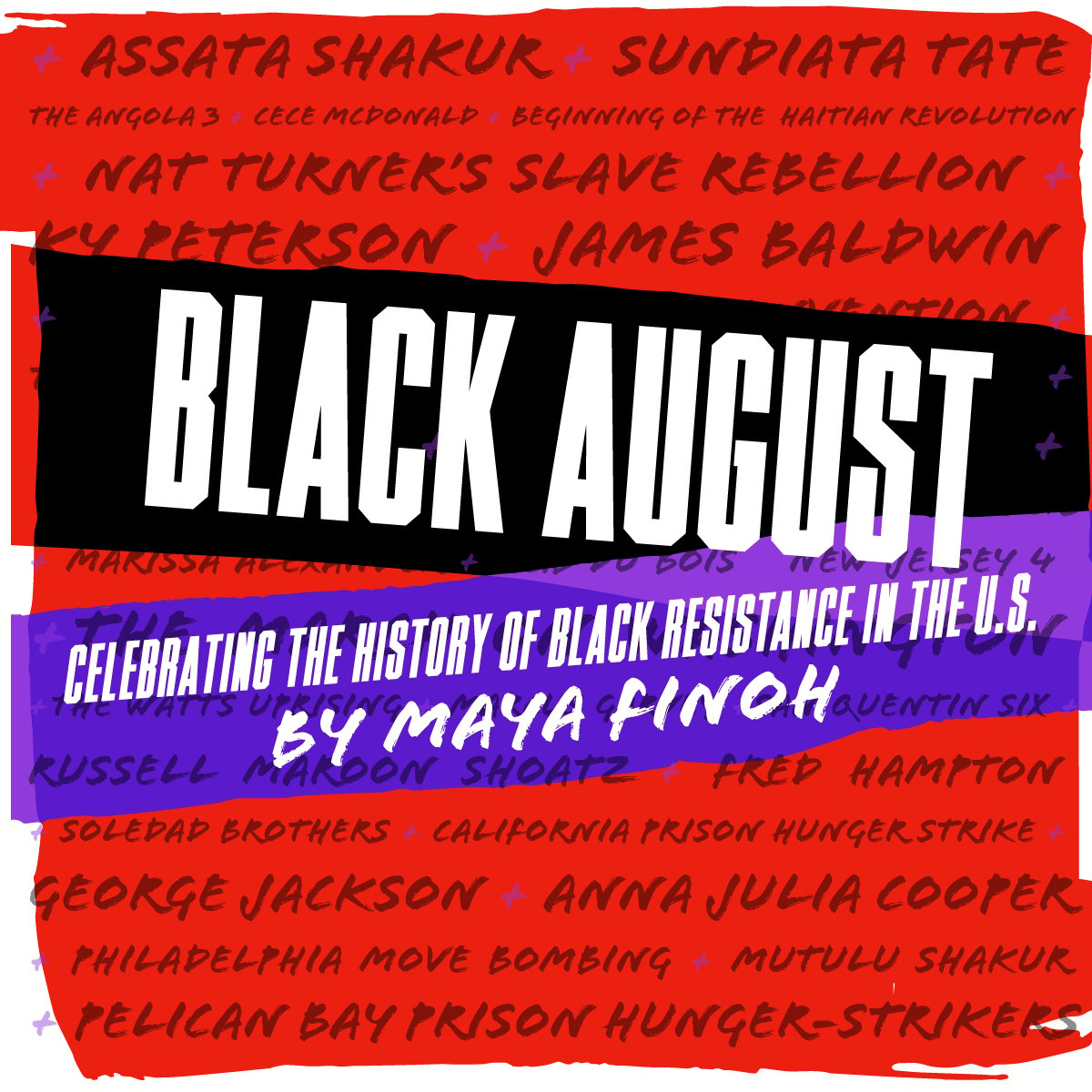 In this op-ed, maya finoh, advocacy associate at the Center for Constitutional Rights, explains the history behind Black August and how this tradition shapes contemporary Black freedom struggles in the United States.
The Haitian Revolution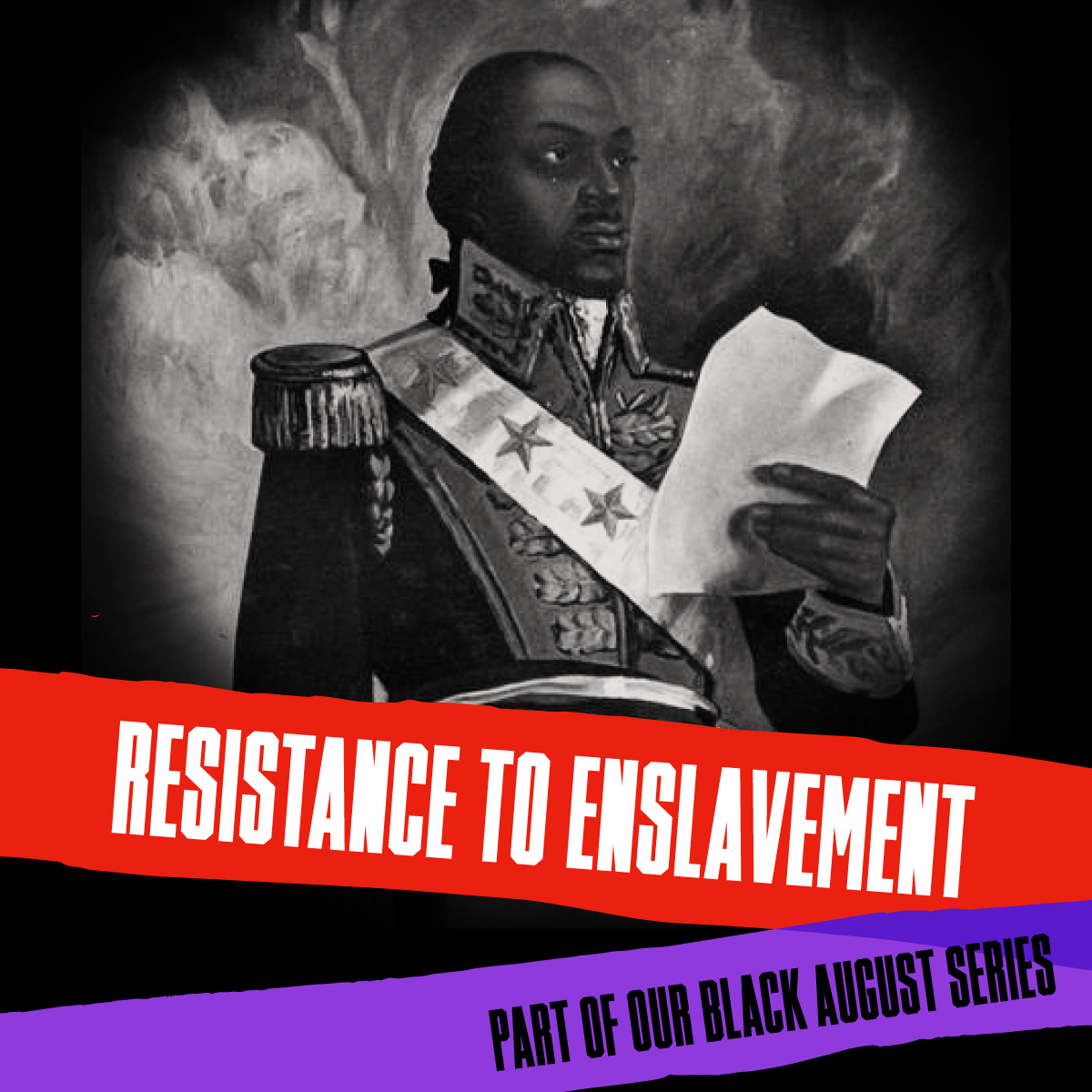 General Toussaint Louverture, leader of the Haitian Revolution.
The Haitian Revolution is the largest and most successful rebellion by enslaved people in the Western Hemisphere. Beginning on August 14, 1791, the uprising ended in 1804 with Haiti declaring independence from French colonial rule, ending chattel slavery, and becoming the first Black republic in the world.
In 1825, France extorted Haiti, forcing the new nation to pay the French colonial slavers for "lost property," calculated at the equivalent of $21 billion USD. For over 120 years, Haiti spent the majority of its national budget on repayments (the original "debt" was paid off in 1947), as well as took out additional loans from other countries and international institutions, including the U.S. To this day, the people of Haiti remain trapped by the immoral financial cost that colonial powers continue to impose on their revolutionary country, and the Center for Constitutional Rights joins global calls to immediately cancel the debt and secure reparations.
Nat Turner's Rebellion
On August 21, 1831, in Southampton County, Virginia, Nat Turner, an enslaved Black freedom fighter, led an insurrection against chattel slavery with the help of over 40 other enslaved people. White repression and retaliation to the extraordinary rebellion were swift and deadly -- Nat Turner was executed in November 1831, and white mobs murdered nearly 200 Black people in response to the insurrection -- highlighting how these righteous rebellions by enslaved Black people struck at the core of white supremacy.
Fugitive Slave Law Convention
The Fugitive Slave Law Convention, chaired by the great abolitionist Frederick Douglass, was held in New York on August 21-22, 1850. It was convened to organize opposition to the passage by the U.S.Congress of the Fugitive Slave Act of 1850, which legalized the capture of escaped enslaved people in every state. Despite the increased risk, the 1850s nonetheless saw thousands of enslaved people flee to freedom, many through the Underground Railroad.

Resistance and Rebellion While Incarcerated
A Black August Mood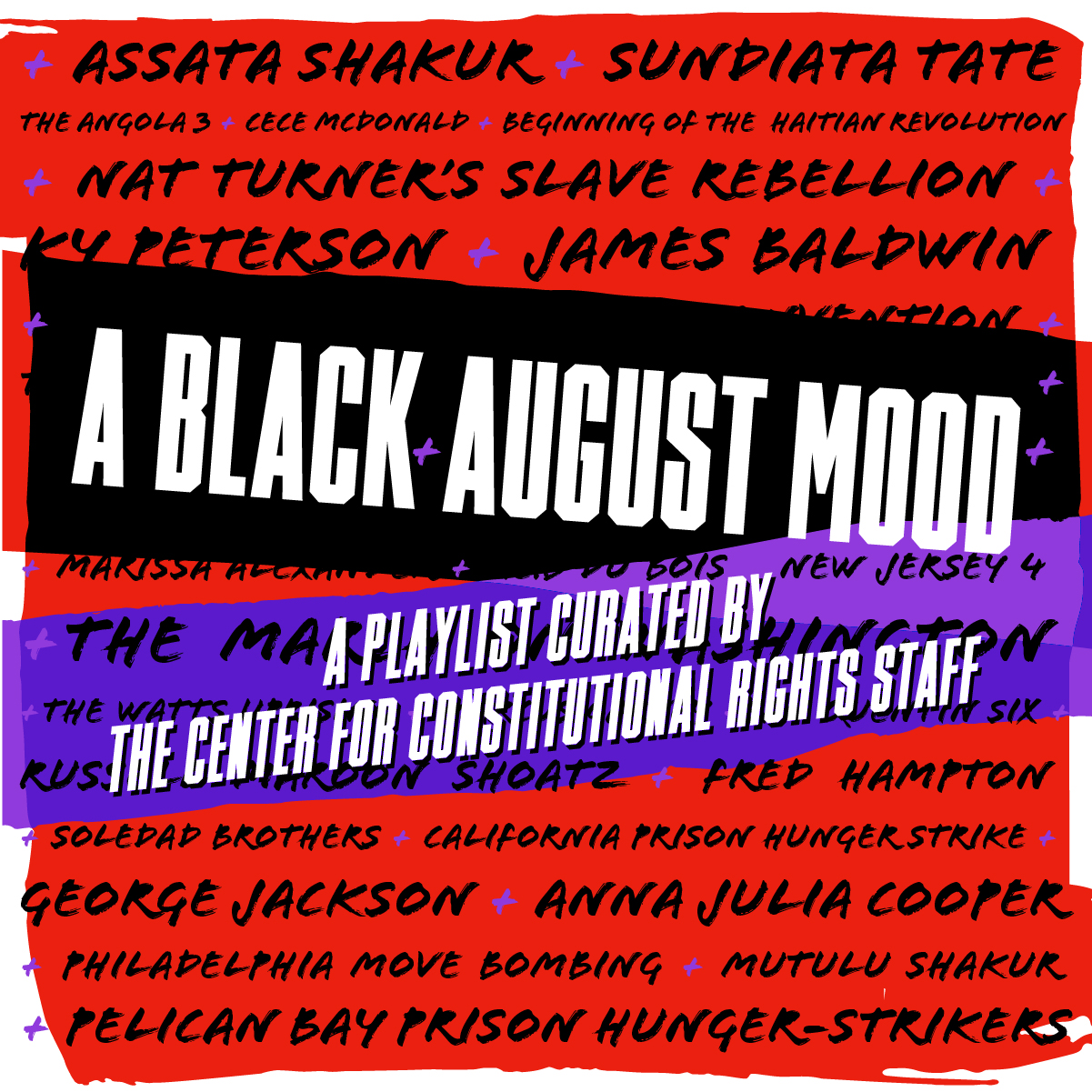 A playlist curated by the Center for Constitutional Rights staff. Songs in honor of Black August, a month to commemorate Black revolutionaries, uprisings, rebellions, incarcerated freedom fighters, and martyrs.
The Art of Liberation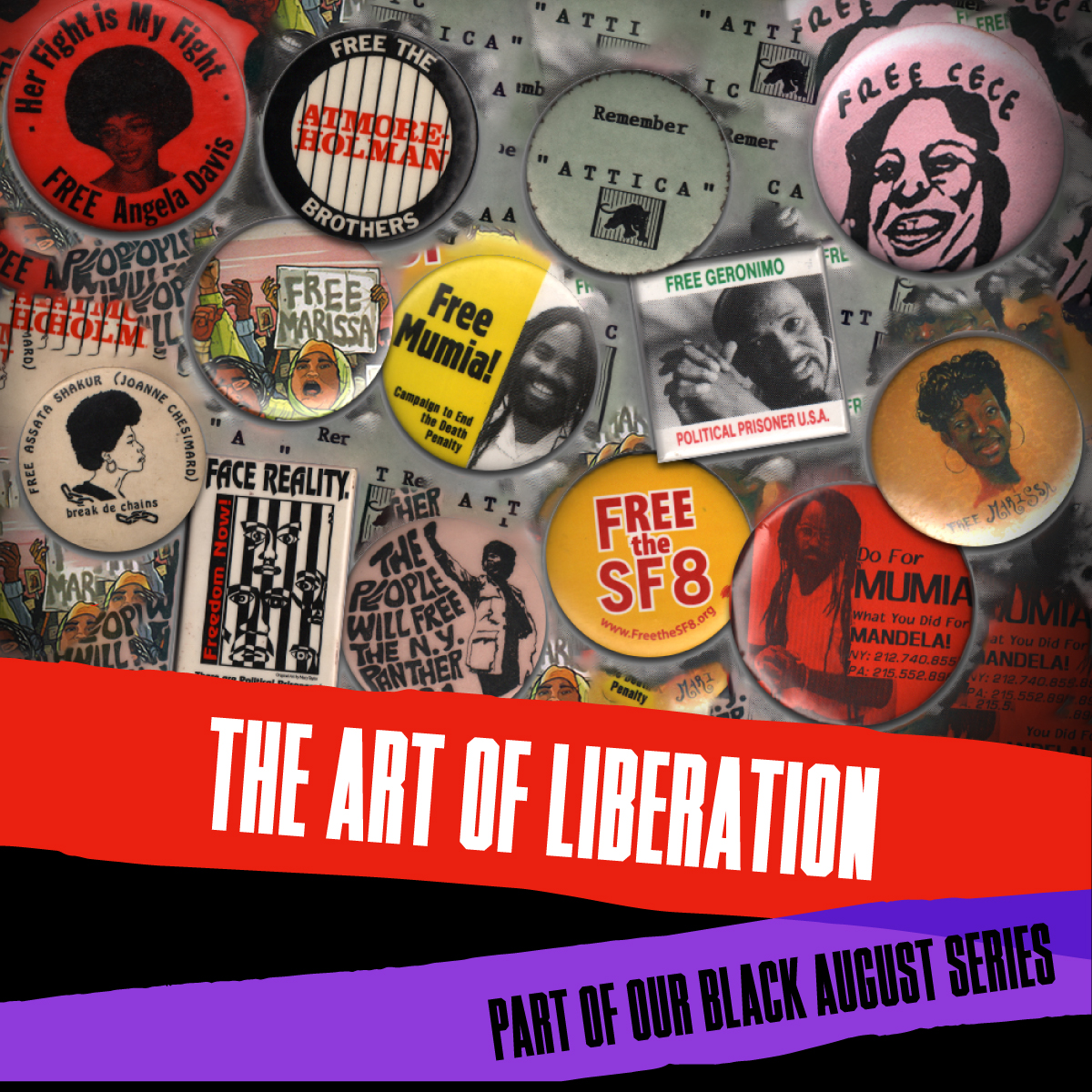 At the Center for Constitutional Rights, we believe in the transformative power of art and culture and have long worked with artists, storytellers, and cultural institutions to not only reflect the world we have, but also imagine the liberated world we want to see.
We honor Black August and its legacy through the histories, figures, and events that shape Black resistance, and the art and documentation that ensure these stories live on. We invite you to explore a gallery of images and ephemera of Black freedom struggles and freedom fighters collected by Interference Archive and Certain Days Collective, as well as shared by some of the artists. We thank them for the opportunity to display these works and for their ongoing efforts to achieve justice and liberation for all.
Interference Archive explores the relationship between cultural production and social movements through an open stacks archival collection, publications, a study center, and public programs including exhibitions, workshops, talks, and screenings, all of which encourage critical and creative engagement with the rich history of social movements. Since its founding in 2011, Interference Archive has launched over 30 exhibitions and hosts over 80 free public events each year. Please consider supporting their great work.
Certain Days is a collective of activists and organizers both inside and outside of prison walls who work together on the production of the Certain Days calendar. The calendar features art and essays about freedom struggles, and proceeds from sales are donated to political prisoner commissary funds as well as organizations working towards justice and liberation. The theme of the 2021 calendar is "A Generation of Support Through the Bars," reflecting on the roles of political prisoners in social justice movements, historically, currently, and as we look to the future. The Certain Days collective operates from an anti-imperialist, anti-racist, anti-capitalist, feminist, and queer and trans liberationist position.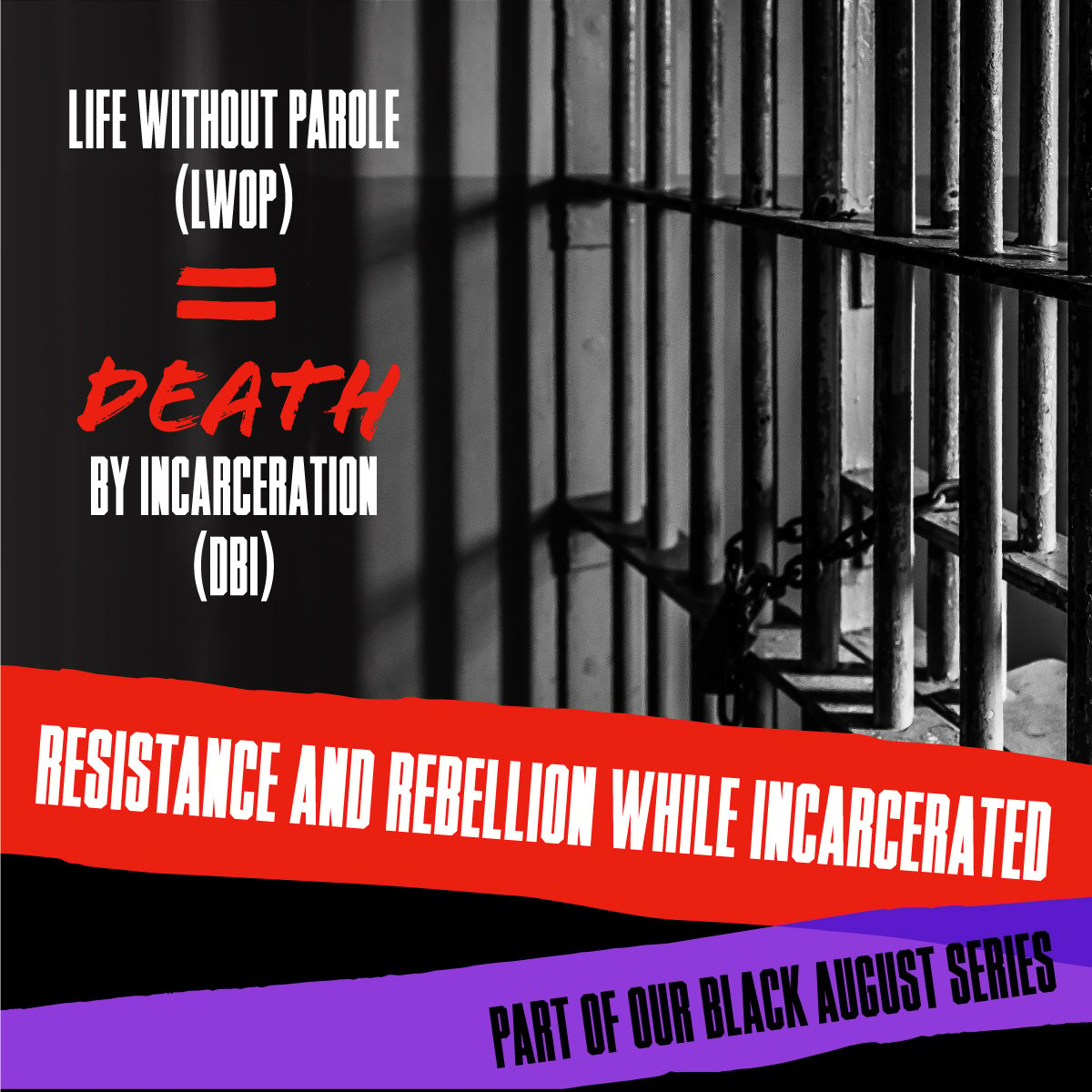 California Prison Hunger Strike
In 2011 and again in 2013, prisoners in Pelican Bay's Security Housing Unit (SHU) organized mass hunger strikes at prisons across the state of California to protest being isolated for at least 22 ½ hours a day in cramped, concrete, windowless cells. They were denied telephone calls, contact visits, any kind of programming, adequate food and, often, medical care. Nearly 750 men were held under these conditions for more than a decade, dozens for over 20 years. A landmark lawsuit, first brought by the prisoners themselves and then joined by the Center for Constitutional Rights, resulted in the state agreeing to end long-term solitary confinement in California, though the fight is far from over.
Scott v. Pennsylvania Board of Probation and Parole
Pennsylvania leads the country and the world in condemning people to die in prison. For years, organizers in and outside prison have fought to challenge the state's draconian practice of Death By Incarceration sentences, also known as life without the possibility of parole. In support of the growing mass movement led by activists, organizers, and lawyers at the Abolitionist Law Center (ALC), Amistad Law Project (ALP), and the Coalition to Abolish Death By Incarceration (CADBI), the Center for Constitutional Rights joined them in filing a lawsuit, Scott v. Pennsylvania Board of Probation and Parole, on behalf of six individuals, arguing that Pennsylvania's mandatory sentencing scheme is unconstitutional and cruel.
The East Baton Rouge Parish Prison Lawsuit
The East Baton Rouge Parish Prison is one of the deadliest facilities in the country. From 2012 to 2016, 25 men died while detained, bringing to light the deplorable conditions and the profound lack of adequate mental health and medical care to address the needs of those in its custody. Since 2017, when the City contracted with a private company to oversee healthcare, 17 more men have died. Survival is resistance at the jail. Of the approximately 1200 individuals held at the East Baton Rouge Parish Prison in Louisiana (or jail), close to 90 percent are in pre-trial detention, yet many of those people have been held for months and years. In support of the demands of the East Baton Rouge Parish Prison Reform Coalition, community members, local advocacy groups, and those imprisoned and their families, the Center for Constitutional Rights joined the Advancement Project National Office, Fair Fight Initiative, Hogan Lovells LLP, and local civil rights attorneys to file Belton v. Gautreaux, a class-action lawsuit challenging the inhumane conditions at the jail and urging the release of individuals, especially in light of the global COVID-19 pandemic.
African Migrant Hunger Strike at Pine Prairie
In 2020, a group of 48 African asylum seekers at the Pine Prairie ICE Processing Center in Louisiana began a hunger strike in protest of continued parole denial and lack of medical care in the ICE facility. While ICE detention is fundamentally inhumane, detainment is even more perilous for Black immigrants who experience anti-Black racism in addition to the abysmal detention conditions. Many of the protesters were Cameroonian refugees who fled armed conflict and government repression of Cameroon's English-speaking minority. While the hunger strikers were immediately met with violence and retaliation on the part of ICE officials, this powerful action raised significant awareness of the particularly vulnerable experience of Black immigrants in ICE detention. The legacy of this hunger strike lives on in the current policy advocacy push to get Cameroon and all Cameroonians currently residing in the United States designated under Temporary Protected Status (TPS).
Stop San Quentin Outbreak Campaign 
The COVID-19 pandemic is having a deadly impact at San Quentin State Prison, where George Jackson was held and killed nearly 50 years ago; at least 25 people have died and over half of the population has been infected. You can support the demands of the incarcerated community at San Quentin using this toolkit and the hashtag #StopSanQuentinOutbreak.

Survived & Punished: The Criminalization of Black Survivors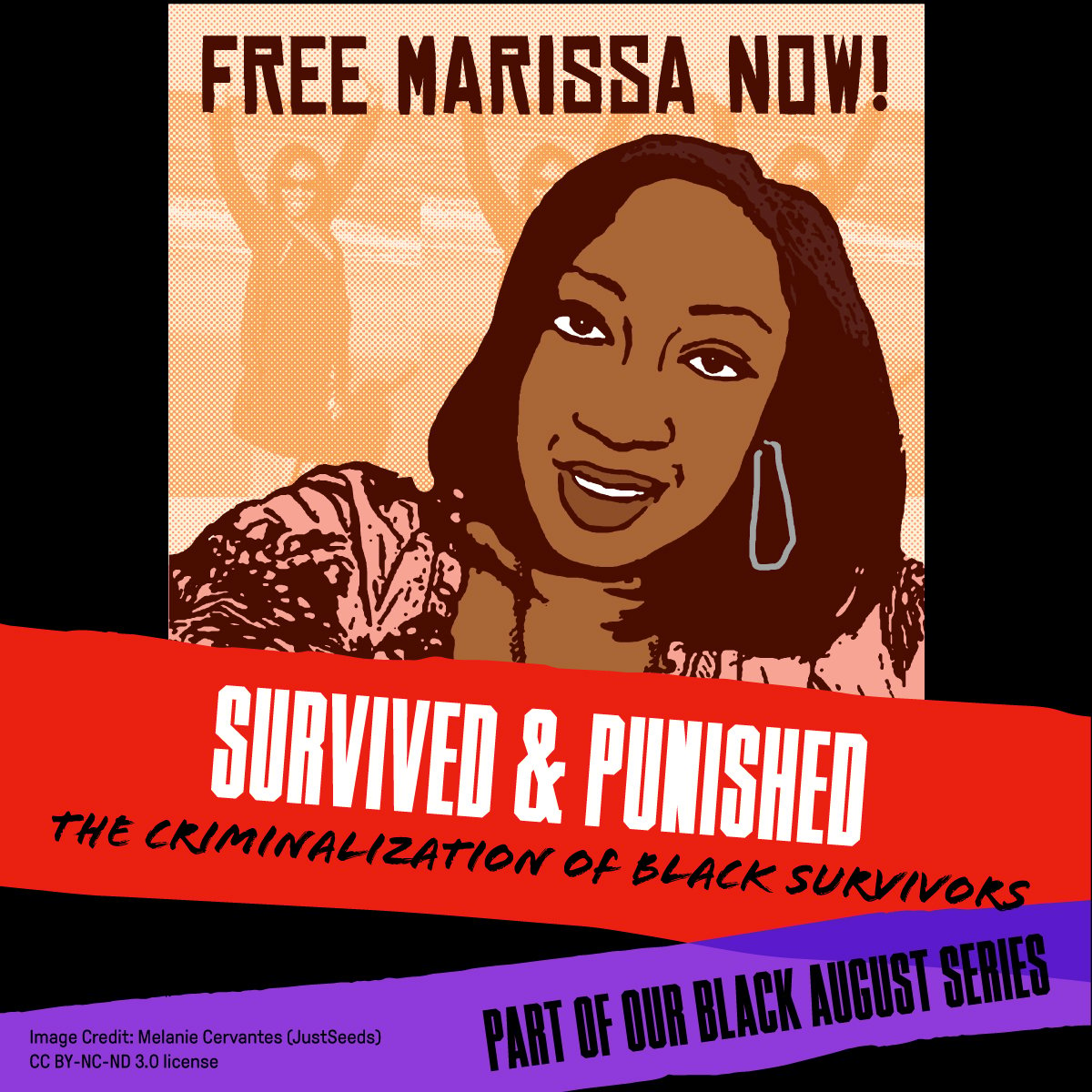 Joan Little
August 15, 1975 marks the historic acquittal of Joan Little, a Black woman and freedom fighter who killed her white jailer after he tried to rape her. Little was the first woman in U.S. history to be acquitted after using deadly self-defense against the person who sexually assaulted her, and her case marked a turning point for the protection of Black survivors of sexual violence. The Center for Constitutional Rights provided assistance to the defense by documenting overwhelming anti-Black racism on the part of the jury in her case.
New Jersey 4
Seven young Black friends from New Jersey were on a night out together in New York City's West Village in August 2006, when they were sexually harassed by a man on the street. When one responded that the members of the group were queer, the man attacked them and threatened sexual violence. The friends defended themselves until they could get away from him. Yet, it was the friends who were prosecuted -- the man called the incident "a hate crime against a straight man," the media disparaged the group as a "lesbian wolf pack" and "gang of killer lesbians" while terming the man an "admirer," and the group members were charged with felonies. Three took guilty pleas to sentences of less than a year, while the remaining four went to trial and were convicted by an all-white jury with sentences of up to 11 years. Upon appeal, the convictions of two of the group were overturned, and the friends' sentences were reduced, the longest down to eight years. Since their release, the friends have become prolific speakers and have pursued their aspirations to complete their studies, advocate for survivors, and support their communities. An award-winning documentary, Out in the Night, tells their stories.
Cece McDonald
In June 2011, CeCe McDonald and a group of friends were targeted in a racist, homophobic, and transphobic attack in Minneapolis. CeCe was injured and defended herself; in the process, one of the attackers was killed. Prevented from introducing testimony about anti-trans violence or evidence of the attacker's white supremacist beliefs, CeCe was forced to accept a plea deal to manslaughter and placed in a men's prison. Both during her incarceration and since her 2014 release, CeCe has galvanized broad support and been an outspoken activist for abolition and trans liberation, reminding us that "prisons aren't safe for anyone."
Marissa Alexander
Marissa Alexander is a Black mother and domestic violence survivor who was criminalized for defending herself from an attack by her abusive husband in August 2010. Despite being attacked just nine days after giving birth and only firing a "warning shot" at the ceiling, Marissa was denied immunity under Florida's infamous "stand your ground" law and convicted of aggravated assault with a sentence of 20 years. Marissa appealed and accepted a plea deal that included electronic surveillance under house arrest, which she was required to pay for. Organizers working in support of Marissa and other criminalized survivors later formed the Survived and Punished campaign. Released from state confinement in 2017, Marissa remains an advocate in support of domestic violence survivors.
Ky Peterson
Ky Peterson was attacked, knocked unconscious, and raped as he was walking home from a store in his rural Georgia town in October 2011. While Ky was defending himself, his attacker was killed. Unable to access support as a survivor of sexual violence or argue self-defense because of his identity as a Black trans man, Ky was held for a year before accepting a plea deal and being sentenced to 20 years. While incarcerated in a women's prison, Ky was harassed by guards, was held in solitary confinement, and had to fight to access gender-affirming treatment. Recognizing the larger impact of his struggles, Ky helped to found the organization Freedom Overground to support trans and gender non-conforming people in prisons in the South. Ky was freed in July 2020 and is committed to continuing his advocacy to support survivors and LGBTQIA+ people in prison.
The Activist Files, episode 29: The Legacy of Black August - Freedom Struggles from Prison Today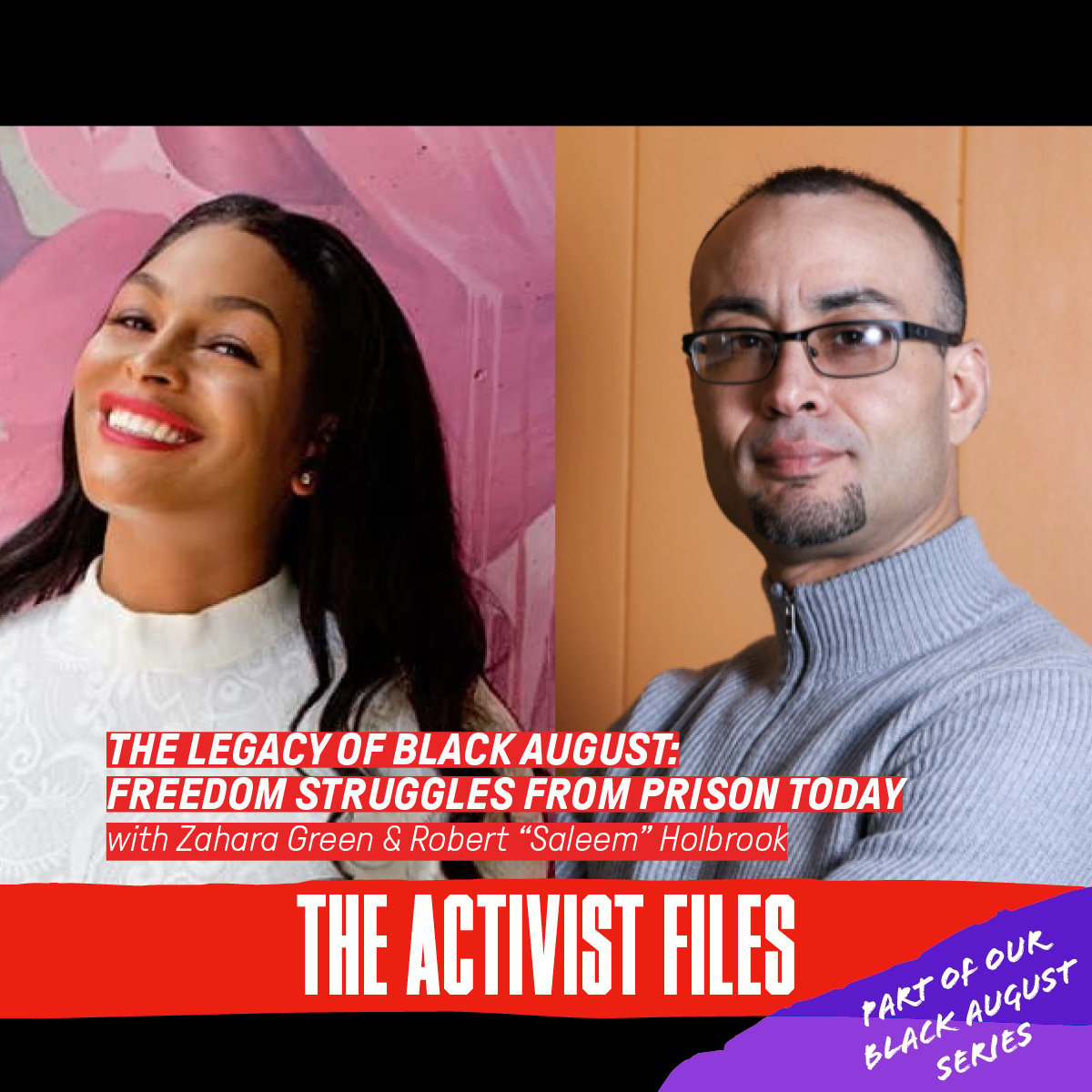 On Episode 29 of the Activist Files, Communications Assistant Alex Webster speaks with TRANScending Barriers executive director Zahara Green and Abolitionist Law Center executive director Robert "Saleem" Holbrook about what Black August means to them and the ways that they continue its legacy in their work. They discuss the importance of honoring the solemnity of the month, how current and former prisoners are the embodiment of Black August, and how we must take this moment to remember those freedom fighters who are still inside. They also highlight the ongoing work to challenge transphobia in both prisons and in organizing, the impact of COVID-19, and how abolition is an undertaking that requires entire social transformation.